​
The Queen City
The Kroger Queen City Championship presented by P&G is a brand new tournament on the LPGA tour. Not since the Cincinnati Bengals were in the Superbowl 30+ years ago have professional women golfers played in the Queen City. The host, Kenwood Country Club hosted the 1963 US Women's Open won by Mary Mills at three under par. In fact, she was the only player to complete 72-holes and remain under par. If that's any indication of what these women have done this week, hold on because the Kendale Course at Kenwood looks amazing.
Kenwood CC is a 36-hole facility nestled just a little northeast of downtown Cincinnati. The LPGA had a quick commute this week just three hours south of Toledo. A welcome change from the country hopping of the last two months on tour. This week will be another parkland challenge, but believe it or not, the skill set needed to win will be quite different.
The Kendale Course is a Par 72 layout covering 6,515 yards.

It has a traditional scorecard with four Par 3's and 5's and ten Par 4's.

Water comes into play on four holes and we will see the fairway and greenside bunkers on all but one hole.
This facility just renovated all 36-holes. The course reopened in the summer of 2021. The renovation took place during the pandemic allowing crews the opportunity to get massive amounts of work done very efficiently. The result of their labors was the removal of over 800 trees, a substantial green expansion, the redesign of some bunkers, and the addition of a multitude of chipping areas, landings, and swales around each of the green complexes. Short game imagination and skill are absolute musts this week when you see these creative green complexes.
Five of the Top 10 players in the Rolex World ranking are competing along with sixteen of the Top 25. The #2 ranked Minjee Lee leads the field, but it is a tight group as seven players have odds lower than +2000. Even though the books are having trouble figuring out which of the favorites will win, Read The Line is not. We have closely looked at the smallest details and manufactured a strong outright list. What kind of small details?
The Kendale Course sits almost entirely with a north-to-south routing. Fourteen of the eighteen holes point either north or south. In fact, seven-point in each direction. The four remaining holes play from east to west. When you consider the weather forecast for this week, some performance factors begin to fall into focus.
Temperatures in Cincinnati this week will start daily in the low 60's and reach the low 80's.

It has been wet recently in Southern Ohio. A couple of storms have made their way across the midwest in the past two weeks. The course also received rain earlier this week on Monday. I was not led to believe the course was soaked by local friends, but it shouldn't play super firm as most of the courses these ladies have competed on have.

More rain is expected on Saturday night into Sunday, possibly another half inch. They may not need the umbrella while playing, but the course should play to its full length.

The wind plans to be somewhat minimal and coming out of the south Friday through Sunday. Thursday has a northern wind predicted. Remember how the course sits, this means many of the holes will play differently over the first two days.
When I start to summarize this week's storyline we see some very common themes. A course that we believe will play hard has all of the elements needed to back that up. I cannot wait to watch and see the most creative short-game players do their thing around these large undulating greens and chipping run-offs. Wait until you see some of these amazing fairway bunkers and approach angles. Altogether, what awaits at Kenwood will more than makeup for the thirty years that the LPGA has been away. Enjoy the competition this weekend, it should be really good.
Coverage times are:
Golf Channel has the coverage.

Thursday and Friday from 4:00 to 7:00 pm EDT

Saturday and Sunday from 2:00 to 5:00 pm EDT
See if you can watch some football games in between!
​
​
---
​
There's a first time for everything...
The competitors facing Kenwood Country Club's Kendale Course will be challenged this week. The average Par 5 length is well over 500 yards, the four Par 3's have elevation changes and half have water to play over. The assortment of Par 4's is interesting as each one really tests you off the tee with fairway bunkers and the greens sit at funny angles upon approach. I keep mentioning these chipping areas around the green. Seventeen of the eighteen holes have closely mown green surrounds. When players miss greens, the balls will roll away from the green edges.
This will create all sorts of decisions and shot-making opportunities for the world's best women. Bunker play and Strokes Gained Around the Green are huge factors for me this week. Strokes Gained Putting, Putting per GIR, and Putting Average also matter as the greens have been significantly expanded back to their original size. So even if a player hits the green, they will still be significantly challenged by the surfaces they face. Approach accuracy is important as players will be asked to hit certain landing areas.
Speaking of specific landing areas, these fairway bunkers are everywhere at Kendale. Watch your angles off the tee as many sit in a unique position with respect to doglegs and layup zones. Seven of the fourteen driving holes move from right to left and six slides the other direction from left to right. On a couple of the Par 4's, players can lay up to avoid trouble or take on the bunkers from the tee. Look for long-iron players to excel here.
Due to the scoring difficulty on the Par 3's and most of the Par 4's, I believe Par 5 scoring will be critical.
LPGA Par 5 scoring: Lexi Thompson (9), Hyo Joo Kim (14), Megan Khang (18), and Yuka Saso (18) all rank in the Top 20 on tour.
Looking at the course challenges, T2G play will separate the field. Our four ladies can really control their golf balls. Whether it is accuracy off the tee or hitting GIR's they all get it done.
Khang leads the group in driving accuracy ranked thirteenth on tour.

Khang (7), Lexi (13), and Hyo Joo (5) are all awesome T2G players ranked below the Top 13 on tour.

Saso is one of the strongest players on tour. She's incredibly long and much like Lexi can hit less than a driver off the tee in many places to increase accuracy. She's first in Strokes Gained Off the Tee and fifth in Driving Distance. Lexi is sixth SG:OTT and eleventh in DD.

Khang is seventh in GIR and Lexi is fifth.
Short game skill sets Megan Khang and Hyo Joo Kim apart from other players. Each is ranked in the Top 6 on the LPGA. If you combine a bunch of these skills you soon see why all four of them are ranked in the Top 40 for Scoring Average more than halfway through the season. When it comes to putting, each of them has its strengths. Lexi is seventh in Strokes Gained Putting, Hyo Joo is third in Putts per GIR and Yuka is seventeenth in that same category. Needless to say, each of these four ladies is a perfect match for contending this week.
Hyo Joo Kim is comprehensively the best combination of ball striking and short game on tour.
Lexi Thompson's odds this week are above +2000 for the second week in a row. This is the Rory of the LPGA. Some say her history holds her back. Well nobody has any history at this inaugural event and that benefits Thompson the most.
Megan Khang came very close last week. She's the second-ranked SG:ARG on tour. This week she will benefit from a difficult track with tremendous Driving Accuracy (13th) and scrambling skills.
Yuka Saso has had an up-and-down season. She started very hot and then cooled down quickly. Her skill set really fits here and the odds show it. They range from +4500 all the way up to +8000. This proves everyone thinks she is a volatile player. That makes her a great prediction when her skill set matches up and boy does it this week.
It's going to take at least three rounds in the 60's this week to win. Hyo Joo leads the way by going that low 72% of the time. Lexi scores in the 60's 71%, Megan 60%, and Yuka 50% of the time as well. How about this, Hyo Joo and Lexi finish in the Top 10 in 46% of the tourneys they tee it up in! Our list is loaded and ready to give us our eleventh win of the season.
Outright winners -
Kroger Queen City Championship
Hyo Joo Kim (+1200)
Lexi Thompson (+2000)
Megan Khang (+2500)
Yuka Saso (+8000)
​
Follow along on social media, especially for our "live" adds.
​
---
One hot story
The Fire Pit Collective tells very interesting human interest stories. Whether it is Alan Shipnuck's Phil coverage or Matt Ginella's interviews, these guys are bringing the coolest stories in golf to the forefront. Ryan French (known as the Monday Q reporter on Twitter), wrote a story covering the most unbelievable tournament DQ last week. Seems one golfer was up to no good and he's got the full report.
Click the picture or button below for French's full story.
​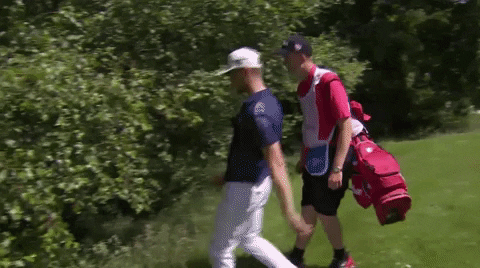 ​
---
More from Phil
​Bob Harig has covered golf for quite some time. In his career, he has developed many relationships and one of those connections is with Phil Mickelson. He spoke with Phil this past week and published that interview on Sports Illustrated's Golf Page. It has been a while since we heard from Phil and Bob has it all including whether or not Phil will play in the 2023 Masters!
Click the picture or button below for the link.
​
​
Just one more week...
The PGA Tour returns next week to the golf betting world in Napa, California.
I cannot wait for double the action!
Subscribe to our Member Newsletter and see all of our premium betting predictions...
PGA Tour DFS lineup
LPGA DFS lineup
Detailed Prop bet analysis for the PGA and LPGA tour!
PGA Professional coaching tips
PGA Tour One and Done selection
PGA Tour Head to Head matchup predictions
LPGA Head to Head matchup predictions
"Celebrity Insider" interviews!
Head right to our website and join! Read The Line.
​
DISCLAIMER: Read The Line provides information and insights concerning the game of golf, aimed at creating more intelligent sports fans. Read The Line does not seek to encourage any of our readers, members or users to engage in sports betting or otherwise make wagers based on the information and insights provided. Any betting or wagers made by readers, members or users are undertaken at their own risk and such activity does not give rise to any legal responsibility on the part of Read The Line. For more information, please refer to our Terms of Use and Privacy Policy.
Think you have a gambling problem? Reach out for help. Read The line promotes responsible gaming. If you or someone you know has a gambling problem and wants help, call 1-800-GAMBLER or visit these online resources:
​The National Council on Problem Gambling​