​
Welcome back Quail Hollow!
Hope springs eternal on the PGA TOUR in Charlotte. Scottie Scheffler and Jon Rahm have decided to skip the same designated event! It might sound like hyperbole, but these two have dominated the elite events to date in 2023. There have been six designated tournaments, the Masters, and PLAYERS Championship. Of those eight events, Rahm and Scheffler have won five of them.
The Wells Fargo Championship heads back to the Queen City and the Quail Hollow Club after a year away. It's important to note the WFC was played in Maryland last year since QHC hosted the Presidents Cup. This happened one other time in recent years. In 2017, the tournament moved over to Wilmington while Quail Hollow renovated their greens. Outside of those two editions, this massive shrine to golf has hosted every other Wells Fargo Championship since 2003.
The par 71 layout measures 7,538 yards. One of the longest courses on TOUR.

Most make a big deal out of the final three holes called the "Green Mile." Fact is that this course stretches 5.2 miles in total!

There are 61 bunkers and seven holes where water comes into play.
A full field of 156 players will be competing for a purse of $20 million. The top 65 and ties will earn a place on the weekend and an opportunity to take home the first-place prize of $3.6 million. Six of the top 10 in the OWGR are here along with 21 of the top 30. Our seventh elevated purse and field, this event is a perfect playing preview for the PGA Championship in two weeks.
The course can be broken into three distinct parts.
The first six holes set the tone. They are the most difficult and play to nearly three quarters of a stroke over par (+.74).

Get through those to start your round and you hit the scoring six (-0.8). In the middle of the scorecard there are two par 5s and a reachable par 4. Those six are where you must reel in a couple low scores.

The final six holes are the volatile ones. The first three are birdie opportunities. The final three… that's the Green Mile. Overall, the final third plays just over par (+.12).
The weather in Charlotte has been warm and wet. The city has seen approximately 6.5" of rain in April. Just this past Friday, more than 2.5" came down. Twenty-five days in April, the temperature was over 65 degrees. That's growing weather and at 7,500+ yards and soft conditions length becomes an even bigger factor than usual. Our forecast this week calls for temperatures in the low to mid 70s. Rain is expected on Friday night into Saturday morning.
The wind will blow from each side of the compass over all four rounds. These tree lined fairways, worrisome water penalties, and elevation changes are enough of a challenge on their own. Throw in a menacing breeze and Quail Hollow will keep the world's best at bay. The last ten editions of this tournament stretch back to 2010: Rory's first Wells win. Of those champions, six have owned pre-tournament odds over +5000. Max Homa won here at +50000! In that time, the winning average score is 13.4 under par and the cutline +1.
I was impressed by Quail Hollow last fall for the Presidents Cup, and the course looks just as impressive for this visit as well. Walking the property, you get an Augusta vibe. The course requires a similar skill set (except for the short game). Bombers excel here and I expect that trend to continue. I'm excited to cover this event on-site and provide in-play insights. Oak Hill is just two weeks away, and there are a couple of players I am eyeing.
Players love this venue and for good reason. I've walked all 18-holes, and the course is in immaculate shape. Enjoy the coverage from Charlotte!
Wells Fargo on TV:

Thursday - Friday 6:45am - 6:00pm (ESPN+), 2:00 - 6:00pm (Golf Channel)

Saturday 7:00am - 6:00pm (ESPN+), 1:00 - 3:00pm (Golf Channel), 3:00 - 6:00pm (CBS)

Sunday 7:00am - 6:00pm (ESPN+), 1:00 - 3:00pm (Golf Channel), 3:00 - 6:00pm (CBS)

Complete details on PGATour.com​

All times EDT.
The Wells Fargo starts in...
​
Boss of the moss?
Conditions are considerably softer than September when the Presidents' Cup was contested. These guys have miles of green to compete on this week. Length is consistently a focus of many media outlets when we look at venues that measure over 7,500 yards. Is length one skill needed to contend this week? The answer is yes, but it is not the number one skill needed to win.
The last ten winners at Quail Hollow for the Wells Fargo Championship share a common thread of traits. The most interesting commonality is that it wasn't their ball striking with the big clubs that pushed them into the winner's circle.
A great comp course for comparing driving and approach play to Quail Hollow is Augusta National. Unfortunately for Rory, it hasn't quite translated, but overall if you have the skill set to contend at Quail, you can contend down Magnolia Lane. The biggest difference between the two comes around the greens. Around the green play is the least favored skill needed to conquer Quail. Three of the last five winners have gained less than a half stroke in route to victory.

It will surprise you that approach play falls behind two other strokes gained categories. The number one indicator for earning money on TOUR, doesn't act as a differentiator here. Most see that and think that it must be easier than other venues and therefore focus their research elsewhere. I believe it is just the opposite. The approach shots at QHC are so difficult each player struggles to gain on approach enough to separate themselves. Fifteen holes present significant elevation changes from tee to green and over 50% of the approach shots are hit from over 175 yards!

Historic average(s) for driving accuracy at QHC during the Wells Fargo is 54% (TOUR average 62%) and driving distance 300 yards (TOUR average 283). Take the driver headcover off on the first tee and leave it in the back of the cart. Any contender will need to bring the heat just like last week in Mexico.

Most are overlooking putting prowess at Quail. The last ten winners have averaged a six-stroke gain against the field. Six times in the last eight years that gain has been over five strokes! Fazio and Cobb combined to create a great test for the flatstick. The 3-putt percentage at QHC is 71%. The TOUR average is 55%. If you're waiting for a guy who strikes the ball well to "pop" with the putter, this probably is not your week.
One of the most leading indicators on TOUR is par 4 scoring. Nine of the 11 par 4s are here are over 450 yards. Keep an eye on the best par 4 players and bogey avoidance. With an average winning score of 13 under par, competitors make bad scores here. Thirteen holes have a bogey rate of 15% and higher while only five holes have a birdie rate over 15%. This is a true championship test and perfect setup for Oak Hill in two weeks...
Outright winners -
Wells Fargo Championship
*- member content - subscribe below
​
​
Read between the lines
The best place to follow news about Read The Line is right here!
​
Futures on Finau..?
What did we learn from the Mexico Open? When it comes to the PGA Championship, I have been reporting on the futures market since the Monday after the Masters! Check out my fourth installment as we ramp up to Rochester. Tony Finau was impressive in Puerto Vallarta on Sunday out dueling Jon Rahm. How will that translate to the season's next major championship? Click the button...
​
​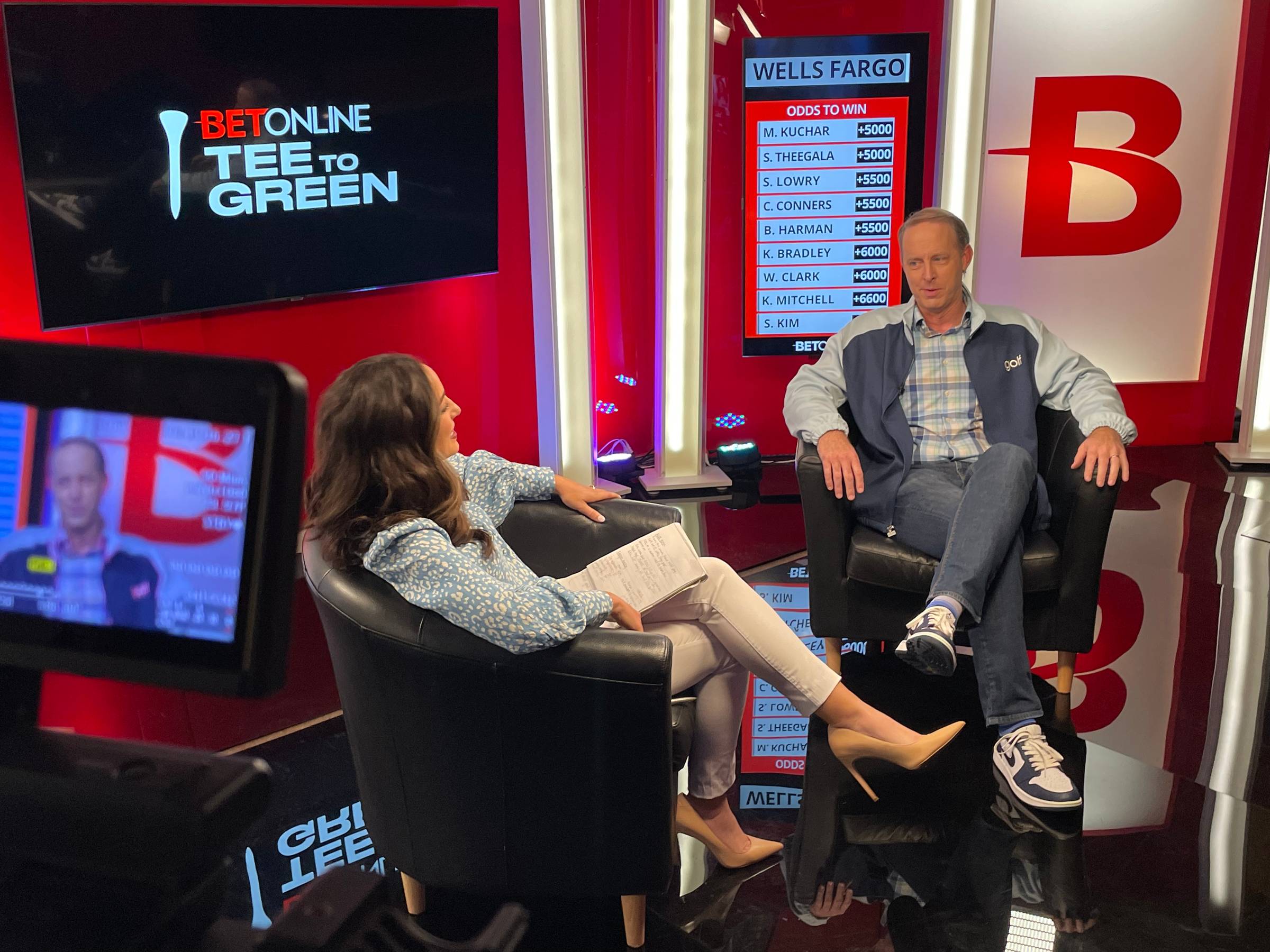 Wells coverage on YouTube TV
Watch Chantel and I break down Quail Hollow, the field, and fill you in on our best bets. When the big events happen on the PGA TOUR, you can bet we both have you covered from Tee to Green!
​
---
Golf betting on the PGA TOUR!
Enjoy our
on-site
,
in-play
coverage all week from Charlotte.
Only two weeks to prepare for Oak Hill.
Head right to our website and join! Read The Line.
​
DISCLAIMER: Read The Line provides information and insights concerning the game of golf, aimed at creating more intelligent sports fans. Read The Line does not seek to encourage any of our readers, members or users to engage in sports betting or otherwise make wagers based on the information and insights provided. Any betting or wagers made by readers, members or users are undertaken at their own risk and such activity does not give rise to any legal responsibility on the part of Read The Line. For more information, please refer to our Terms of Use and Privacy Policy.
Think you have a gambling problem? Reach out for help. Read The line promotes responsible gaming. If you or someone you know has a gambling problem and wants help, call 1-800-GAMBLER or visit these online resources:
​The National Council on Problem Gambling​