​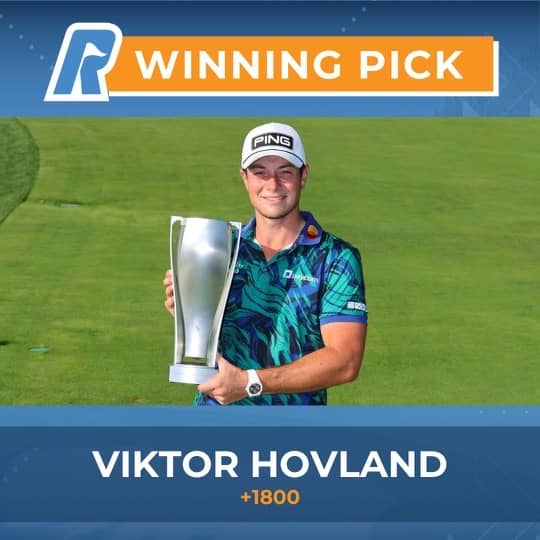 #10 - Viktorious!
We saw history on Sunday when Viktor Hovland fired a record setting back nine 28 at Olympia Fields to take the BMW Championship. For the final round, we had Max Homa and Hovland in the mix. Viktor went wild on his last nine making eight threes and 11 on his card for a course record 61. Congratulations to Hovland and his camp. Can he keep it going in Atlanta?
Playoff loss in Ireland 🇮🇪
Sunday did not start out great and Irish eyes weren't smiling... We had two ladies at the ISPS in contention. Olivia Cowan posted a strong score (68) and was the clubhouse leader for a couple of holes. Esther Henseleit was also in the mix and birdied the last to get into a three-way playoff. For an event where you didn't know anyone's name, we ended up with two players in the top 5! Much like Linn Grant and Maja Stark, you will be reading Cowan and Henseleit's name again...
Mr. Jones and me
The Tour Championship can get confusing so I will just get right to it. The top 70 started in Memphis two weeks ago. They have been playing to make the top 30 and gain a ticket to Atlanta. When you get to East Lake Golf Club, the points go away, and to avoid fan confusion, the PGA TOUR implements a completely new scoring system. Simply put, the best players get a lead before the tournament starts. The number one ranked player (Scottie Scheffler) starts at 10 under par and the strokes work their back through the top 25 of 30 players.
For RTL, we will be predicting the winner without strokes. Please pay attention when making your bets. The straight 72-hole tournament without the staggered start is also referred to as the shadow leaderboard. One of the main reasons I don't bet on the "stroked" leaderboard is to avoid confusion for my readers. Let's keep it simple this week and just get win 11.
Another reason for this strategy is the odds. Look at the "stroked" betting board. The odds are much lower given the advantage. The average gross winning score over the past decade is 12 under par. If you start more than a couple strokes behind the leaders, you essentially don't have a chance to win. East Lake Golf Club is a stern test. Can a player go full-Viktor and take it deep one day? They can, but why not take the same player without the staggered start and with higher odds.
I'm down in Atlanta, and it is hot! Read The Line is on-site covering the top 30 from 2023. The forecast calls for temperatures in high 90s, heavy humidity and very little breeze. If you are coming out, please drink lots of water. Memphis was brutal too and we don't want to lose any fans of RTL. Little to no rain is coming and the course is in great condition. Last year it was very soft. We will see some roll this week and that's good news for the par 70 layout measuring 7,346 yards.
Eight of the twelve par 4s extend over 440 yards and the par 3s effectively all play over 200 yards. With only two reachable par 5s on the scorecard, if you want to separate yourself par 4 scoring is the best plan of attack. Considering the purse is $75 million dollars and the winner will walk away with $18 million, strokes or no strokes you have the player's attention. Twenty-four of the top 30 in the OWGR are in the top 30 FedEx Cup players. Those who have made it here will get invitations to all four majors next year and a two-year exemption on TOUR.
For a player like Adam Schenk that's a huge deal. Most of the top 30 have won and gained that two-year ticket. All four majors, designated events, and two more years is a great reward. Did I mention last place gets $500,000! Please enjoy the golf at East Lake this week. Other than the Ryder Cup, we will not see most of these guys again until January. Even Rome will be a challenge considering the start times will be six hours ahead. This is the "Superbowl." So, tune in, enjoy, and let's go win one more!
Tour Championship starts in...
​
​
No strokes!
One more friendly reminder, this content covers the without strokes division in Atlanta. For three weeks you have heard me opine over par 70 golf courses. Well after this narrative, the PGA TOUR will not return for two weeks. Let's get to work and win back-to-back.
The Tour Championship has been contested at East Lake Golf Club every year since 2004. A paradise of challenging par 4s, Bobby Jones's spirit is represented in the ball striking needed to succeed around this course. Seventy-four bunkers and six holes where water comes into play all make the best take notice. Bermudagrass covers the above average size green surfaces (5,619 sq/ft) and Zoysiagrass fairways launch the ball on approach. ELGC is one of the most penal courses on TOUR from off the fairway. The players average just below 55% of fairways hit while the TOUR average is 62% for the rest of the schedule. Accuracy off the tee is just as important as Memphis and Chicago.
Power presents a distinct advantage up and down these hills. The average drive length is nine yards longer than the TOUR average. That tells us the top 30 on TOUR are long and they hit plenty of drivers here. Several holes have elevation changes and there are plenty of uneven lies. Another reason why the T2G skill is so important, the east -west routing also tends to give players a bunch of cross wind shots (Fourteen of the 18 holes run east to west or west to east). Long iron approach play is consistently tested. Nearly 40% of the iron shots are played from over 200+ yards. Before we give Scottie or Viktor the trophy, short game and putting have determined more winners than the iron game.
You can make putts at ELGC. All putts over 5' have an average make percentage higher than the PGA TOUR average. If you are a good Bermudagrass putter, there's an edge at East Lake. It is summer in the south and that grainy Bermudagrass on the green surfaces can drive you silly if you aren't used to seeing it. Over the past decade, the average winning score (without any strokes) is 12 under par. Birdie or better percentage is just as important as bogey avoidance. Thirteen holes have a birdie rate over 15% and seven holes carry a bogey rate over that same measure (15%).
Besides par 4 scoring, I also looked at each competitor's ability to gain on the field by hitting fairways and greens. T2G stats are not easy to come by at the Tour Championship. In the last 5 years, less than six strokes have been gained by the winner on average over the field. You can separate with the putter, but the overall ball striking needs to be hot. If you miss a fairway, don't miss buy much. Hit as many GIRs as possible. There are eight par 4s over 440 yards. Like TPC Southwind and Olympia Fields, these par 70 scorecards require great proximity to the hole.
Viktor's Sunday charge was led by aggressive play off the tee and excellent iron shots. The same recipe holds true for one more week. Familiarity with the course and Georgia golf does play roll for my outrights. A Canadian won the Canadian Open, Keegan won in New England, and I have every indication to believe a "Georgia" guy will take home the straight stroke play event. Nine holes at ELGC play to a scoring average under par and nine play to an average over. That succinctly sums up the skill set. Balance is the key to going low and just playing your best. My outrights won't get distracted by the "strokes" leaderboard. They will grind to the end and make every effort to win the real tournament.
Outright winners -
Tour Championship
​
*- member content
---
O' Canada
It takes a 13-hour flight to get from Belfast, Northern Ireland to Vancouver, British Columbia for LPGA's next stop and the CPKC Women's Open. The Women's Canadian Open started in 1973 and for the first time is being contested at Shaughnessy Golf and Country Club on the shores of the Fraser River. The wonderful A.V. Macan Jr. design has previously hosted four men's Canadian Opens. Set alongside the water it is a beautiful combination of tree lined fairways and shoreline conditions.
The course is a par 72 layout measuring 6,685 yards.Sixty-two bunkers cover the course and there are seven holes where water comes into play. Four par 3s (average distance 180 yards), four par 5s (average 510 yards, ten par 4s (average 393 yards).
The Poa Annua-Bentgrass greens are small targets at 4,285 sq/ft on average. The ladies will need to be on point with their iron game to be best in class. Fifteen of the top 20 in the Rolex World Rankings have descended upon Vancouver for the national championship north of the border. We know Brooke Henderson will receive a ton of support, but will it be enough to win over a field of 144 golfers. The top 65 and ties will play the weekend and compete for the $2.5 million dollar purse.
Going to Canada at any time of year can get dicey when it comes to the weather. The ladies are in luck as they have a good week. Temperatures are predicted in the mid to high 70s and there's no rain in the forecast. In fact, Vancouver has not received much rain at all in August. A certain key as the course is long by standard LPGA tour standards. A little roll in the fairways will be appreciated by the women.
This coastline course is in perfect condition and ready for the world's best women. Eight past champions are in the field, yet none really have an advantage as all the players are new to Shaughnessy. The four winners of the five major championships have also joined the field along with 14 of the 16 season winners. We are about a month away from the Solheim Cup and preparations are in order. I believe certain stars are pushing for a win in the coming weeks. Many elite players have not won, and the year is more than half over. All of this is going to build toward an exciting finish for the fans.
There must be an edge, and I have found it. AV Macan Jr. also designed Columbia-Edgewater Country Club in Oregon where the ladies play the Portland Classic. Success in the northwest will translate and will be just enough for us to come up with a very competitive card. After all, we predicted two of the top 5 in Ireland last week for a combined LET/LPGA event. Although we ultimately lost in a playoff, there is always a way for us to be competitive and win.
CPKC starts in...
​
​
The best are back
The average winning score in four editions of the men's Canadian Open held at Shaughnessy Golf and Country Club is four under par! The course is a tough test and will play equally hard again for the women. Handicapping everyone's chances starts with strokes gained T2G. It sounds obvious, but when the field scoring average is above par, basic ball striking becomes the best differentiator. The first element is the 3" Ryegrass rough they will be competing against. Most of the fairways are tree-lined as well. Power and accuracy are a huge advantage as half of the par 4s are over 400 yards in length.
The further down the fairway each player gets, the better your chances are on approach. Most of the iron shots each woman will be playing will fall in the 175+ range. Three par 3s play over 175 and three of the par 5s are reachable. Long iron and hybrid play will be critical hitting into these small targets. Many will miss and they will be forced to use their short game to keep up scoring momentum. Diving into strokes gained around the green, you quickly learn many of the most elite players on tour are not ranked very high in that category.
If one of those elite ladies plans on contending, she better get those wedges working. Hitting it close from trouble will be key and making those par saving putts. My weather station for Vancouver is located near downtown. They are predicting wind speeds in the low teens. As we push out to the sound, those values will only increase. Almost the entire back nine is exposed to the water. There are trees surrounding the fairways, but that will only form wind tunnels. The toughest challenge facing these women will be hitting greens.
Once you reach the green, putts can be made. These surfaces aren't overly undulating. Good putters can use their flatstick to separate. I see a path to the top through crisp approach decisions and excellent short game. Considering the final score will be in the single digits under par more than just bogey avoidance will matter. I also like to give an edge to those players who make tons of birdies in these cases. The more low scores you can put on your card, the better.
Par 4 scoring is also considered and rounds in the 60s. We have reached September and the stats have built a clear resume for each player. For the most part, we know who they are and what to expect. There will still be surprises, but as I stated in the opening, many of the elite have not won. Unlike the men, Nelly is not afforded $20 million dollar purses. She must push herself to continue winning. Even Lilia Vu who won two majors in 2023 has travelled all the way to Vancouver.
The fall is going to be interesting on tour and there are a couple names I have been watching all season who are playing well. Check out our list of outrights for the women's Canadian Open.
Outright winners -
CPKC Women's Open
*- member content
​
​
Read between the lines
The best place to follow news about Read The Line is right here!
​
One more WIN this week!
Rick Gehman of Rick Run Good fame invited Read The Line to join his premiere season long fantasy league back in December. We drafted teams and broadcast it all "live" on YouTube.
The finals matched Jason Sobel of the Action Network's Orlando Kingsmen against RTL's Fore Horsemen. The Horsemen rode through Chicago and took home the season long title in epic fashion 472 - 335. If you haven't tried season long fantasy golf, get some friends together and give it a try in January. The experience was awesome!
​
---
10 wins... so let's keep going!
The LPGA Tour rolls on...
The PGA TOUR will be back in two weeks.
Head right to our website and join! Read The Line.
​
DISCLAIMER: Read The Line provides information and insights concerning the game of golf, aimed at creating more intelligent sports fans. Read The Line does not seek to encourage any of our readers, members or users to engage in sports betting or otherwise make wagers based on the information and insights provided. Any betting or wagers made by readers, members or users are undertaken at their own risk and such activity does not give rise to any legal responsibility on the part of Read The Line. For more information, please refer to our Terms of Use and Privacy Policy.
Think you have a gambling problem? Reach out for help. Read The line promotes responsible gaming. If you or someone you know has a gambling problem and wants help, call 1-800-GAMBLER or visit these online resources:
​The National Council on Problem Gambling​