​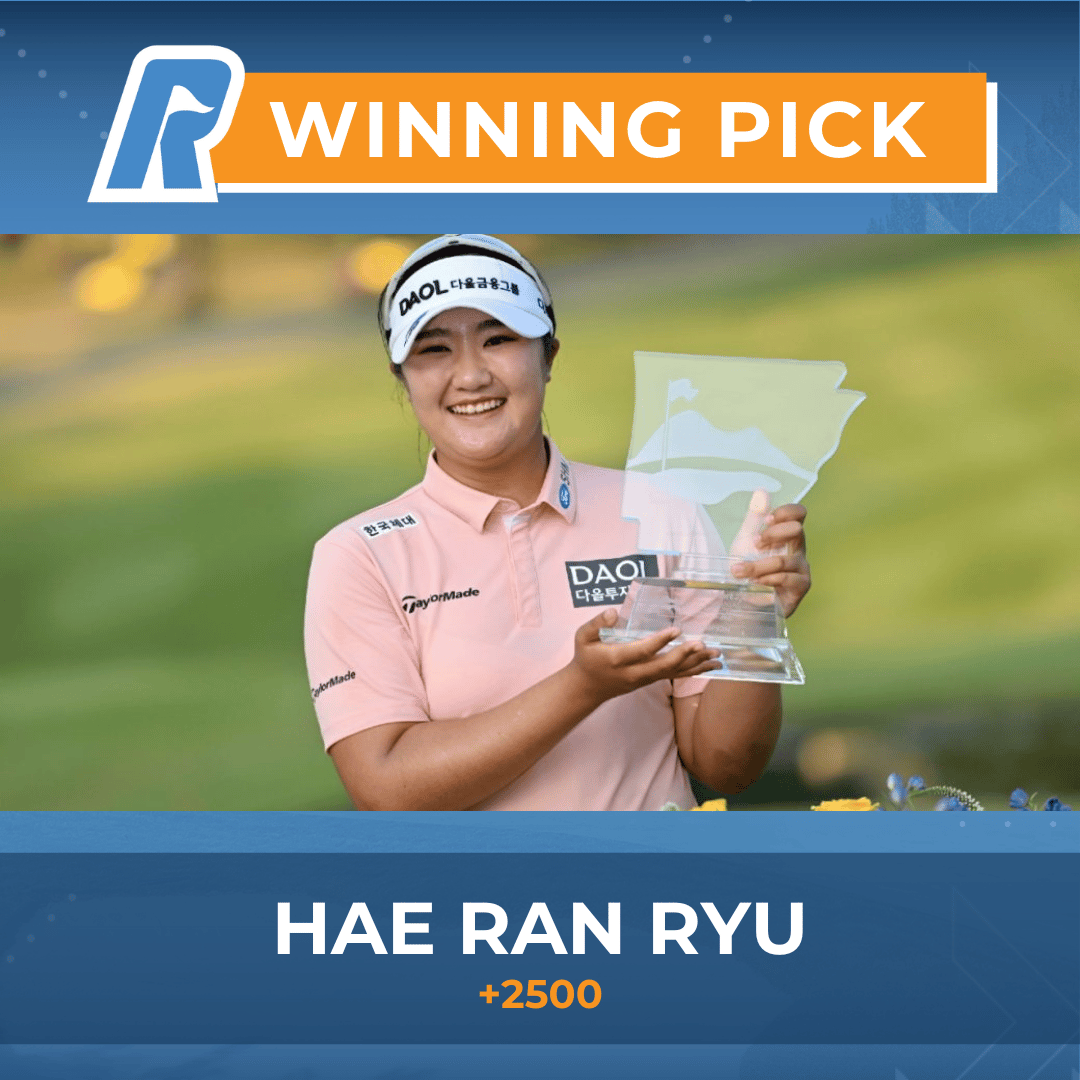 Luck #13!
LPGA rookie sensation Hae Ran Ryu won the Walmart NW Arkansas Championship on Sunday by three shots! Her sensational approach on the par 5 fourteenth hole Sunday afternoon sealed the deal when the ball came to rest just two feet from the hole for eagle. It was a very profitable week as Ryu's pre-tournament odds were +2500. Three out of four outrights finished in the top 10. Including Jodi Ewart Shadoff who we also bet +525 to finish in the top 10. What a week...
The fall run returns
The FedEx Cup Fall restarts this week in Jackson, Mississippi. The Sanderson Farms Championship has been contested at the Country Club of Jackson since 2014. A wonderful 27-hole facility, the PGA TOUR uses their Dogwood and Azalea nines for their championship routing. We start with the forecast. Temperatures are expected in the mid 80s for Thursday and Friday and the mid 70s over the weekend. There's a chance of rain on Friday, but otherwise the field of 144 players should remain dry. The top 65 and ties who make the weekend will be playing for an $8.2 million dollar purse.
A breeze is expected to blow all four days in the low teens and challenge these guys a little as they try to capture the $1.476 million dollar first-place check and 500 coveted FedEx Cup points. That's the key for these seven fall events. Get you card secured for 2024 by finishing in the top 125. Do so, and you will gain entry into all of the full field events next year. CC of Jackson throws a par 72 7,461-yard course at the competitors.
The perfect golf weather will only add to the birdie fest that's about to take place. The average winning score over the past five years is 19 under par and over the last nine it's 18 under. That's a pretty consistent score and although the average cutline has been 1.6 under par over the last five years, the winners themselves have been anything but routine.
Any tournament where Ryan Armour and Cam Champ win in back-to-back years will make you think. Armour is known for being very strategic, short, and straight. Champ IS the longest driver on tour. The average odds of our winners over the past nine years are +16900. Eight of the last nine winners (except Sam Burns) have all had pre-tournament odds of +5500 or greater. With 56 bunkers and only five holes where water comes into play, the most persistent challenge in Mississippi is the grass.
We are talking wall-to-wall Bermudagrass and that fact alone can certainly accentuate or eliminate some folks. As we expect, the field is limited in star power having just two of the Top 50 players in the world rankings (19 of the Top 100). The Sanderson Farms is the only PGA TOUR event to ever be played in all four seasons. A unique distinction, I'm not sure it is a good one. With so many fighting for their card, many of these fall events are going to be great opportunities for the middle of the odds board.
We know it is tough to break through when those Ryder Cup stars are in the field. Only one (Ludvig Åberg) made the trip from Rome and that's because he's trying to raise his level of status from PGA TOUR U to a full time TOUR card. The design of CC of Jackson doesn't really offer Åberg the chance to differentiate with his ball striking. Four par 5s, and six par 4s under 440 yards aren't the same test as Marco Simone. Ludvig could easily contend in this field based upon his play, but the Ryder Cup is a long week. It is for that reason and many more listed below why we will look past the betting favorite for our picks to win the "chicken championship."
Sanderson Farms starts in...
​
​
Putt for dough
Drive for show and putt for dough. I remember watching the 2021 final round of the Sanderson Farms. Sam Burns and Cam Young were locked in a bombers duel. Both were ripping drivers and holing putts. That showdown left a lasting image. Fast forward a couple seasons and the formula for CC of Jackson remains the same. Attack this course and take advantage of opportunities on the greens. That's where the secret to succeeding starts. All nine winners have gained an average of six strokes against the field with their putter. Furthermore, only one winner in the last five has gained less than three strokes with their flatstick.
The approach recipe for this week falls in the wedge zone. Nearly 40% of approaches are played from 125-175 yards. Six of the ten par 4s are under 440 yards. All PGA TOUR players are solid from that range. The differentiating factor becomes how many times you can put yourself in that position with your driver, and how many of those birdie putts you can convert. Eleven holes have a 15% birdie rate or higher. The four par 5s and drivable par 4 fifteenth must be taken advantage of. Length is an advantage on all five holes.
Part of scoring is not losing your momentum. For such an easy TOUR venue, we do see a fair number of bogeys. Scrambling and bogey avoidance will keep your round going. That's important because you can't back up from the leaders. Bermudagrass around these greens is unpredictable and having some short game confidence is key. Speaking of that southern weed, players who excel on Bermuda always have an advantage at CC of Jackson.
Hitting approach shots from the Bermuda rough and putting across that grain (on the greens) is an acquired skill. Certain players are better by experience on this type of surface. Our list favors the Bermudagrass boys. I like CC of Jackson because better ball strikers tend to play well here. My outright list is a team of serious flushers. They can easily score on par 5s and handle all lengths of par 4s. They scramble well and lead the field in BoB%. I realize they aren't Ryder Cup elite, but in this field that's the key.
Find the players who are hitting the ball great and look for flatstick momentum. I also want players who have a sense of urgency. Young talent who is ready to show a little win potential. This field is wide open. The favorite is a rookie Ryder Cupper who has never competed in a major championship. He was using a college meal plan six months ago! The fall is always filled with great winning stories and with just a couple elite players in the field, I'm watching for a first-time winner.
Outright winners -
Sanderson Farms Championship
​
*- member content
---
Lake Life
The cross-country tour continues and so does our success. We had a winner in Arkansas last week, and now a trip to Dallas where the women will compete in the Ascendant LPGA benefitting the Volunteers of America in The Colony, Texas. The Old American Golf Club was opened in 2010. Since 2018, the LPGA has been coming to this course. The Par 71 scorecard stretches 6,438 yards. The course design by Tripp Davis and Justin Leonard weaves its way alongside Lewisville Lake.
Ten of the top 30 players in the Rolex World Rankings are here to compete for the next LPGA title. Unlike the PGA TOUR, these ladies are ramping up this fall to contend for the season-long CME crown. The largest purse in their game, we have six contests left before the $7 million purse is dealt out in Naples, Florida. Considering Lexi, Hyo Joo, Atthaya, Celine, and Leona are all in Dallas, I'd say this tournament has more than just my attention.
Since the LPGA started at the Old American GC the average winning score has been fourteen under par (I skipped the winning score from 2018 as it was reduced to a 36-hole tournament). A solid mid-teens total means there will be some trouble here.
Ten out of the 18 holes have water in play.The course has 128 bunkers!Twelve of the 13 fairways have bunkers to challenge you off the tee.All 18-holes have greenside bunkers.The average green size is small at 5,500 sq/ft.
Short game and specifically bunker play are concerns of mine. When you think about last year's winner, Charley Hull, around the green acumen comes to mind. When we get to the outright predictions, hitting your target will become a theme. The course winds its way along the lake's edge and inland. It is a beautiful setting for a golf course. Although being alongside the water means it is exposed to the wind.
The weather looks suspect on the water just outside Dallas. Highs are expected in the high 70s with considerable wind blowing on Thursday through Saturday. Less than an inch of rain has fallen over the last three weeks, but Wednesday and Thursday look wet. There's a 90% chance of rain in round one tapering off before Friday. Whether it is enough to soften the greens for target practice or make the place wet is yet to be determined.
Just like last week, we have five par 3s. The remaining holes consist of four par 5s and nine par 4s. On average, the par 3s are medium in length. Four of the 3s measure in the 170s and only two of them have a penalty area to worry about. The 4s average 395 yards in length and the par 5s approximately 525 yards when you consider all four of them. Scoring on those three shot holes will be important and favor longer players.
Although length at the Old American GC is only valuable if it is reliable. There are tons of trouble placed all around this course. We have watched some struggle who hit slightly errant shots. I mentioned the bunkers and the water. Historically, when the tournament has been played at OAGC the cutline has always been above par (+1, +8, +2, +1). An exquisite setting will test these ladies and entertain us for four days. Who will contend? Well after two LPGA wins in the past month, there's no doubt our list will be some of those on the leaderboard come Sunday afternoon once again.
Ascendant LPGA starts in...
​
​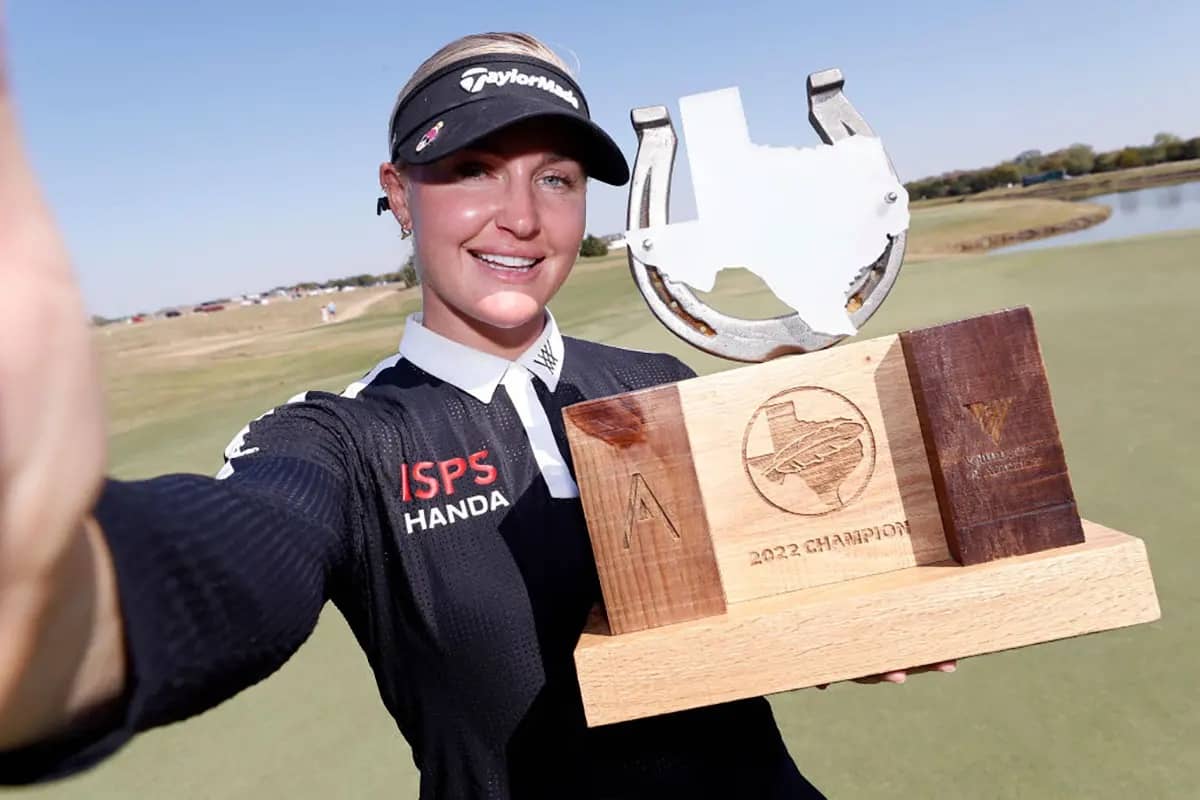 Another putting contest?
Week after week, we figure out what matters when it comes to the LPGA and PGA TOUR. This trip to Texas is no different. In my research, I see a couple of trends behind the scenes that will play out on center stage this Sunday just like Hae Ran Ryu and her par 3 prowess did last week.
The Old American Golf Club tests your ball control all over the course. LPGA players hit the ball so well, they face very little trouble on the course unless it's a major championship. This week is one of those outliers where when the ladies miss it, they will have to recover. We have 128 bunkers covering 18-holes. Sixty-six are located along the fairways and sixty-two more can be found guarding the greens.
Any player looking to keep her round momentum going must be able to conquer the sand skillfully. You are going to get in and saving par will keep you close to the front of the pack. Included with bunker play, let's also mention that around the green is challenging as well. These greens aren't surrounded by rough grass. The surrounds roll with the landscape and the ladies will need some skill to manage many different styles of chips and pitches from closely mown areas. The leaders last year had a 76.3% success scrambling success rate.
Once on the greens we see another set of challenges. The top 10 last year gained an average of 7.6 strokes against the field with their flatstick. These putting surfaces are tricky. They are also exposed to the elements as these holes move in and out from the water's edge. On approach, the top 10 from 2022 hit 69.7% of their GIRs. They also gained an average of 4.5 strokes on approach. T2G this place is tough, and you must be on top of your accuracy game to succeed.
Those five par 3s are a complete test facing the players each day. That same top 10 averaged 2.99 strokes on the 3s. That's quite different than last week where the par 3s played under par for the top of the leaderboard. Hae Ran Ryu made five birdies on par 3s in three rounds. This week any player who competes near even par on those holes will make up ground on the field.
Talk about a design that keeps you completely off balance, OAGC has bunkers everywhere. Combine that with eight tee shots moving right to left and four others moving left to right. There's one straight one, but who could tell as the rest of this would make anyone dizzy. Players must drive the ball well here to score. Considering all the challenges in play, you need birdies to balance the bogeys. Those same top 10 players averaged 4,23 birdies per round or 16.9 for the 72-holes.
I love this course for the ladies. The setting is beautiful, and the skill needed to win is admirable. There have been a couple ladies striking it well over the past month. Some of them have the perfect complement to play Old American. Their iron game is strong, scrambling reliable, and putting opportunistic. Who are they, take a look below.
Outright winners -
Ascendant LPGA
*- member content
​
​
Read between the lines
The best place to follow news about Read The Line is right here!
​
Weekly Podcasts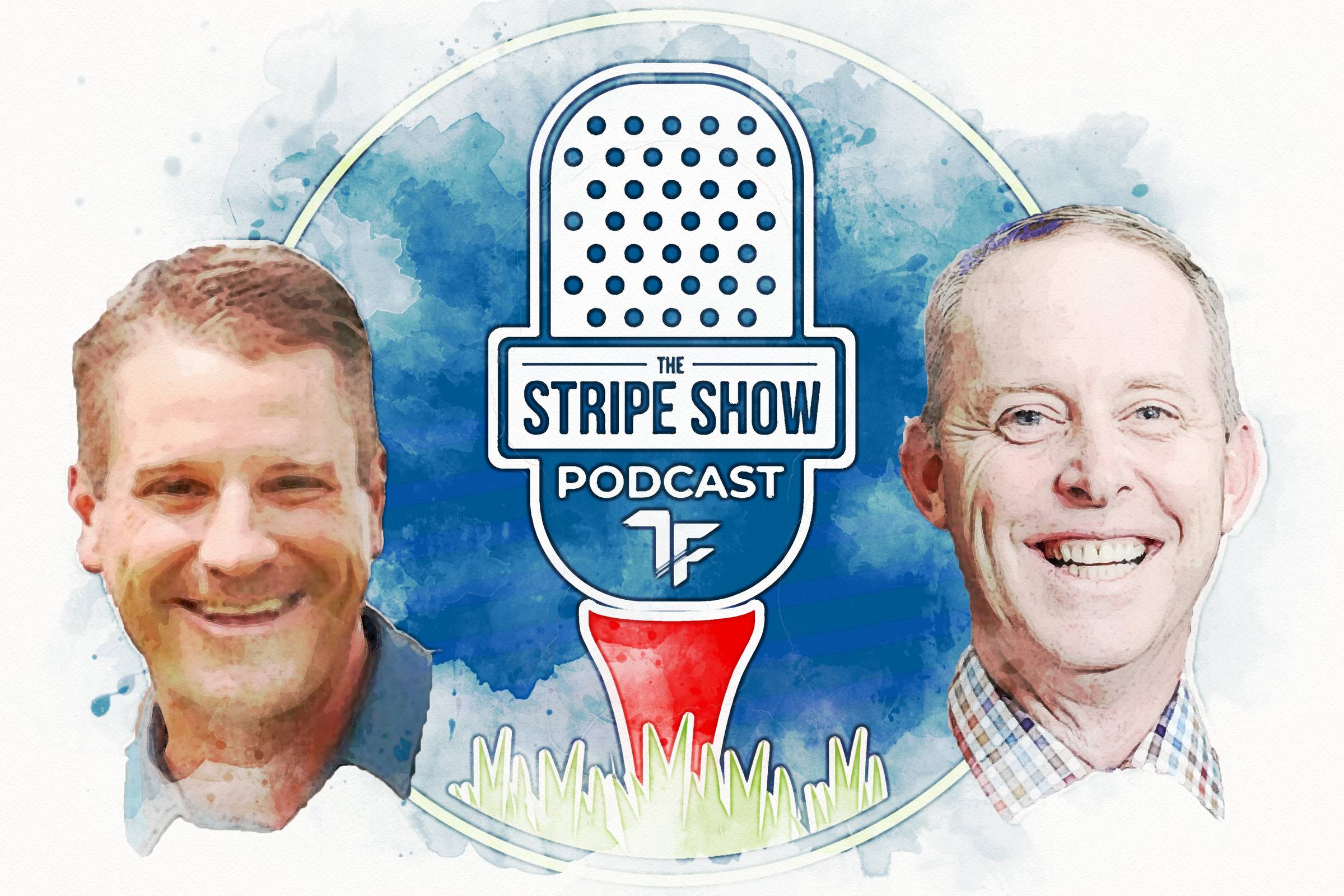 The Stripe Show
Every Tuesday, Keith joins Travis Fulton at noon as they breakdown the betting board for the PGA TOUR. Two expert golf instructors discussing "why" players will play well. Look at this past week as they breakdown Sam Ryder's swing. This level of golf betting coverage does not exist on any other platform. If you want more "golf" coverage in your golf betting analysis, the Stripe Show is for you!
​
RotoWire Rundown
You can catch Keith with RotoWire's Senior Golf Writer Len Hochberg on the Rundown every Tuesday as well. A podcast that takes less than 10 minutes. These two discuss the most important betting topics of the week. Len's DFS background combined with Keith's sportsbook perspective provide an excellent point/counterpoint to each topic. If you like insider knowledge and entertainment check it out.
​
---
13 wins and counting..!
Head right to our website and join! Read The Line.
​
DISCLAIMER: Read The Line provides information and insights concerning the game of golf, aimed at creating more intelligent sports fans. Read The Line does not seek to encourage any of our readers, members or users to engage in sports betting or otherwise make wagers based on the information and insights provided. Any betting or wagers made by readers, members or users are undertaken at their own risk and such activity does not give rise to any legal responsibility on the part of Read The Line. For more information, please refer to our Terms of Use and Privacy Policy.
Think you have a gambling problem? Reach out for help. Read The line promotes responsible gaming. If you or someone you know has a gambling problem and wants help, call 1-800-GAMBLER or visit these online resources:
​The National Council on Problem Gambling​