​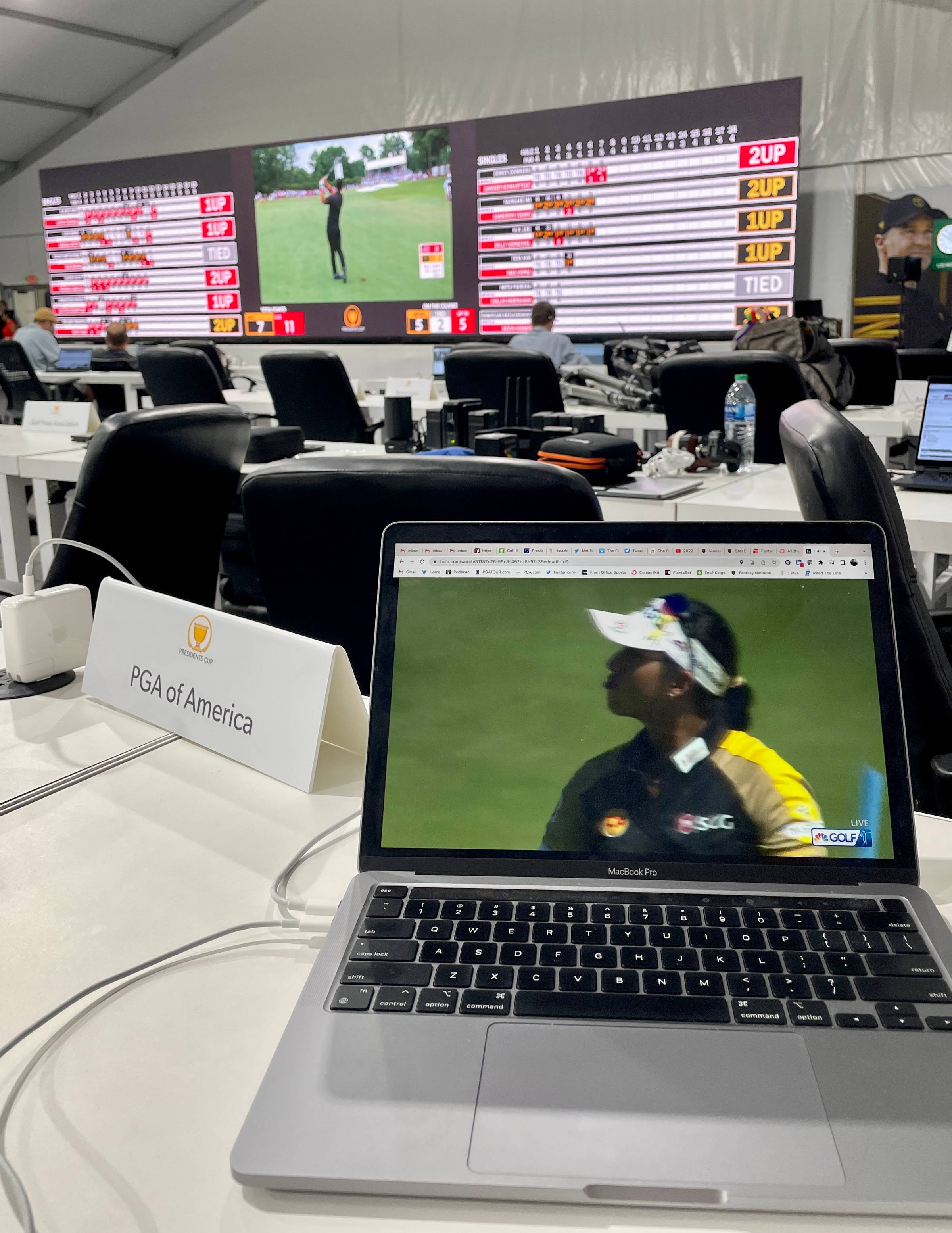 The sweat is real
Well, we were at it again this weekend. The LPGA started the action early on Sunday morning when Danielle Kang (+5000) earned her way into a playoff with a closing 64 in Arkansas. We predicted her to play well and she sure did! Kang played those Par 3's in 5 under par over 54 holes. Congratulations Danielle for coming close to an unbelievable comeback victory. Kang was diagnosed with a tumor on her spine back in the spring and this was only her third tournament back.
Even though the LPGA didn't give us our 12th win of the season, the Sunday Singles matches at the Presidents Cup did not disappoint. Our 5-2 record was highlighted by the Sebastian Muñoz win over world number one Scottie Scheffler and Max Homa bringing it home over Tom Kim. Jordan Spieth gave us a pre-tourney win as well with his five points and best captain's pick point total (+450).
​
The Farm
The big show is over and the PGA Tour can be proud of how the 14th Presidents Cup turned out. Trevor Immelman's team made it more than competitive, and overall the vibe was very positive surrounding the whole week on property. From one of golf's biggest events, we travel back to the final fall run (for now at least) on the PGA Tour. The next tournament to break down is the Sanderson Farms Championship. Just a quick jump from Charlotte to Jackson, Mississippi at the Country Club of Jackson.
The Par 72 layout covers 7,461 yards.

A standard scorecard of four Par 3's and 5's and ten Par 4's.

The mix of holes at CC of Jackson is quite varied. We have long Par 4's alongside some short ones. The Par 5's are some of the most challenging on tour while the Par 3's are some of the least difficult.
We are talking wall-to-wall Bermudagrass this week and that fact alone can certainly accentuate and eliminate some folks. As we expect, the field is limited in start power having just five of the Top 50 players in the world rankings attending.
Our weather this week is very nice for Jackson, MS considering the time of year.
Temperatures will run from the mid-50's in the morning to mid-80's during the afternoon wave.

Humidity will still be present as levels are expected around 70-75%. That keeps the ball flying as heavy air holds the ball up a little longer.

We're clear from the rain, and the winds will be most challenging on Thursday but continue to diminish as the rounds press on.
That perfect golf weather will only add to the birdie fest that's about to take place. The average winning score over the past five years is 19.8 under par and over the last ten, it's 19.7. That's a pretty consistent score and although the average cutline has been 1.6 under par over the last five years, the winners themselves have been anything but routine.
Any tournament where Ryan Armour and Cam Champ win in back-to-back years will make you think. Armour is known for being very strategic, short, and straight. Champ IS the longest driver on tour.

The average odds of our winners over the past five years is +6900, and over the last ten, it doubles to +13400. Take away Sam Burns who won as the favorite last year and we see a trend to look past the chalk when it comes to this week.
When we consider the talent in the mid-tier odds range, I have a tough time getting to that +10000 zone. Of course, we'll get to that in the outrights section. For now, you have a macro summary of what to look for at the Sanderson.
Check it out...
All on the Golf Channel (all times EDT).
Thursday 3:30 - 6:30 pm

Friday 11:30 am - 3:30 - 6:30 pm

Saturday 4:00 - 7:00 pm

Sunday 4:00 - 7:00 pm
​
Here we come Dallas
The America tour continues and so does our success. Winner in Portland, a playoff last week, and now a trip to Dallas where the women will compete in the Ascendant LPGA benefitting the Volunteers of America in The Colony, Texas. The Old American Golf Club was opened in 2010. Since 2018, the LPGA has been coming to this course. The Par 71 scorecard stretches 6,475 yards. The course design by Tripp Davis and Justin Leonard weaves its way alongside Lewisville Lake.
Six of the Top 10 players in the Rolex World Rankings (nineteen of the Top 30) are here to compete for the next LPGA title. Unlike the PGA Tour, these ladies are ramping up this fall to contend for the season-long CME crown. The largest purse in their game, we have six contests left before the $7 million purse is dealt out in Naples, Florida. Considering Lexi, Nelly, Lydia and Brooke are all in Dallas, I'd say this tournament has more than just my attention.
The weather looks gorgeous this week on the water just outside Dallas. Highs are expected in the mid-80's while each day is going to begin in the 50's. Since the LPGA started at the Old American GC the average winning score has been fourteen under par (I skipped the winning score from 2018 as it was reduced to a 36-hole tournament). A solid mid-teens total means there will be some trouble here.
Ten out of the 18 holes have water in play.

The course has 128 bunkers!

Twelve of the 13 fairways have bunkers to challenge you off the tee.

All 18-holes have greenside bunkers.
Needless to say, short game and specifically bunker play are concerns of mine. When you think about last year's winner, Jin Young Ko, accuracy comes to mind. When we get to the outright predictions, hitting your target will become a theme. The course winds its way along the lake's edge and inland. It is a really beautiful setting for a golf course. Although being alongside the water means it is exposed to the wind. Luckily, there is no rain and very little wind in the forecast. The windiest day will be Thursday and it consistently gets calmer as we work our way toward Sunday's final round.
Just like last week, we have five Par 3's. The remaining holes consist of four Par 5's and nine Par 4's. On average, the Par 3's are medium in length. Four of the 3's measure in the 170's and only two of them have a penalty area to worry about. The 4's average 395 yards in length and the Par 5's approximately 525 yards when you consider all four of them. Scoring on those three shot holes will be important and favor longer players for sure.
Although length at the Old American GC is only valuable if it is reliable. There's tons of trouble all around this course. We have watched some struggle who hit slightly errant shots. I mentioned the bunkers and the water. Historically, when the tournament has been played at OAGC the cutline has always been above par (+1, +8, +2, +1). So an exquisite setting will test and entertain these ladies for four days. Who will contend? Well after two weeks in a row with a first and a second place there's no doubt the ladies on our list will be some of those on the leaderboard come Sunday afternoon again.
Coverage times
All on the Golf Channel (all times EDT).
Thursday 12:30 - 3:30 pm

Friday 12:30 -3:30 pm

Saturday 1:00 - 4:00 pm

Sunday 1:00 - 4:00 pm
​
​
---
Coaching coverage of the Cup!
Xander Schauffele clinched the Presidents Cup for the American side with a closing par on the eighteenth hole. Ever wonder what goes through a PGA Tour player's mind when making a strategic decision like he did? This past week, I was in Charlotte to cover the Cup for PGA.com and this article is just one of the many coaching pieces I wrote.
Click the picture or button below for quick access to PGA.com.
​
​
​
---
​
Who can beat Sanderson Sam?
Sam Burns took home the Sanderson title in 2021. Will he repeat as Max Homa did two weeks ago at the Fortinet? Odds are against it, but he does possess a specific set of skills that will help him contend this week once again. The Country Club of Jackson is going to be set up for scoring. As I mentioned in the opening narrative, if you wish to win this week you better get to twenty under par or more. Burns is one of the better birdie makers on tour and anyone who wishes to take the Sanderson title from him, better make a bunch of them.
The Par 3's are some of the easiest on tour and past champions have taken advantage of four Par 5's. The Par 4's are a really good mix of long and short holes. The driveable 15th is a stark contrast from the 479-yard 16th which follows it for example. Par 4 scoring will be weighed in my research along with Par 5 potential. When you consider approaching both, we see a lot of wedge shots. The scoring range of 100-150 yards accounts for nearly 40% of all approaches. I believe this is one of the main reasons eight holes have a birdie rate over 20% while only one hole has a bogey rate over 20%.
A short game isn't really tested here, but I love to look at Scrambling statistics when we have a collection of shorter approach shots. Those who can scramble use their wedges well. So I added in a little Strokes Gained Short Game and Scrambling along with the standard SG:T2G data. Two common traits amongst all the contenders at the Sanderson are dominant driving and solid putting performance. It's funny because you don't have to be long or super accurate driving the golf ball, you just have to take advantage of the layout. Put the ball in play to best take advantage of your strengths.
The greens are not very challenging, but with Bermudagrass, we do see a trend of those who putt well on other Bermudagrass greens to excel here. Players can make a lot of putts so if you are a good putter, expect that to be a differentiator. Burns didn't have the best performance last year en route to victory, but from five feet or further, players make more putts than the PGA Tour average at CC of J. That's significant and the main reason why our predictions for the Sanderson can all roll the rock.
This was the sixth easiest course on tour in 2021. I expect that trend to continue and the following list of players to prove it by going low in Jackson.
Scott Stallings has been on a late summer run. He finished runner-up at the BMW to Patrick Cantlay and now he returns to a course where he won once before (2012). The reason Scott plays the Sanderson so well has much to do with his wedge game. He's really good on those 100-150 yards-scoring shots. Against the entire field, he has one of the best proximity scores for that distance. Over his last ten events, Stallings has been gaining strokes on the field in every major category. His Par 4 scoring, putting, and proximity all checkout. Come Sunday, I believe he might just check in to the winner's circle here once again.
You may not know Thomas Detry, but you will. The standout Belgium player has been getting better and better on the DP World Tour. He won the World Cup a couple of years ago with fellow countrymen Thomas Pieters. He's an extremely well-rounded player. He can putt, perform on Par 4's and make plenty of birdies. He finished twelfth at the Fortinet gaining nearly five shots against the field off the tee. He's committed to playing the PGA Tour full time and his type of comprehensive scoring ability (birdie any hole) will come in handy on most courses; especially this one. He's played plenty of US golf having attended Illinois and his recent form makes him worth a winning wager this week.
Outright winners -
Sanderson Farms Championship
Scott Stallings (+3300)
Thomas Detry (+4500)
Pick 3* (+4500)
Pick 4* (+8000)
*- member content
​
A Texas sized test
Week after week, we figure out what matters when it comes to the LPGA and PGA Tour. This trip to Texas is no different. In my research, I see a couple of trends behind the scenes that will play out on center stage this Sunday just like Danielle Kang and her Par 3 prowess did last week.
The Old American Golf Club tests your ball control all over the course. Many times on the LPGA, these ladies hit the ball so well, they face very little trouble on the course unless it's a major championship. This week is one of those outliers where when the ladies miss it, they will have to recover.
We have 128 bunkers here. Sixty-six are located along the fairways and sixty-two more can be found guarding the greens.
Any player looking to keep her round momentum going must be able to conquer the sand skillfully. You are going to get in it at some point and saving par will keep you close to the front of the pack. Included with bunker play, let's also mention that Around the Green is challenging too. These greens aren't surrounded by rough grass. The surrounds roll with the landscape and the ladies will need some skill to manage many different styles of chips and pitches from closely mown areas. Very rarely do I weigh short game (outside of a major) as much as I am this week.
Those five Par 3's are a complete test facing the players each day. You have to be a solid iron player to make my list this week. Much like last week, except this time I'm favoring players who are a little longer. Being lakeside means the wind will present some decisions and I want ladies who can really compress their golf ball. This will also help when it comes to getting the ball in play off the tee.
Talk about a design that keeps you completely off balance, OAGC has bunkers everywhere. Combine that with eight tee shots moving right to left and four others moving left to right. There's one straight one, but who could tell as the rest of this would make anyone dizzy. Players must drive the ball well here to score. Although this is not a birdie fest, ladies will need to get to double digits under par. It takes a complete player to win here, and that's why your defending champion is the #1 ranked player in the world.
Nobody is having a better season statically than Brooke Henderson. She has finished in the Top 20 in fifteen of eighteen tournaments this season (83%). That's unbelievable and the main reason why on a ball strikers course like this, she has to be a favorite. She's ranked second in driving, thirteenth in approach, and second T2G. She's fourth in Par 3 scoring and already has two Top 25 finishes here in her career. With a week off, she'll be rested and ready to go. Winning the season-long CME race is a strong possibility so you know she's motivated to get another title.
Celine Boutier loves this time of year. I'm not sure if it reminds her of golf in France, but last year she won in the early fall and last week finished fifth. This expert iron player is ranked fourth on tour for approach and twenty-third for Par 3 scoring. I love the way she rolls the ball and that's mainly why she has the eleventh-best scoring average on tour. That win last year was at the Shop-rite which is played along the Atlantic coastline in New Jersey. She can handle the wind because of her impact. She's made the cut here all four times and finished T12 or better twice. Good history, great ball striker equals Sunday sweat.
Outright winners -
Ascendant LPGA Benefitting VOA
Brooke Henderson (+1600)
Celine Boutier (+2500)
Pick 3* (+2800)
Pick 4* (+5500)
*- member content
​
​
---
Best wishes to all of our members in Florida 🙏🏻
I hope everyone remains safe.
Above all else, we are a community of golf fans and friends.
Subscribe to our Member Newsletter and see all of our premium betting predictions...
PGA Tour DFS lineup
LPGA DFS lineup
Detailed Prop bet analysis for the PGA and LPGA tour!
PGA Professional coaching tips
PGA Tour One and Done selection
PGA Tour Head to Head matchup predictions
LPGA Head to Head matchup predictions
"Celebrity Insider" interviews!
Head right to our website and join! Read The Line.
​
DISCLAIMER: Read The Line provides information and insights concerning the game of golf, aimed at creating more intelligent sports fans. Read The Line does not seek to encourage any of our readers, members or users to engage in sports betting or otherwise make wagers based on the information and insights provided. Any betting or wagers made by readers, members or users are undertaken at their own risk and such activity does not give rise to any legal responsibility on the part of Read The Line. For more information, please refer to our Terms of Use and Privacy Policy.
Think you have a gambling problem? Reach out for help. Read The line promotes responsible gaming. If you or someone you know has a gambling problem and wants help, call 1-800-GAMBLER or visit these online resources:
​The National Council on Problem Gambling​