​
#11 - Viktorious... again
For the second week in a row, Viktor Hovland won on the PGA TOUR. Forget those staggered strokes, Hovland shot -19 to take the gross title. Hovland's historic finish to the season brought back memories of The Memorial. RTL was on-site for all three of Viktor's wins this summer. All three! Who knows with the money he just won in Atlanta; he just might start sending us a travel allowance.
#12 - Khang completes Sunday sweep!
It has always been my goal to win a LPGA and PGA TOUR event on the same Sunday. We have been close a couple times before. Most recently, Viktor Hovland won the BMW Championship and Esther Henseleit lost in a playoff at the ISPS HANDA Invitational. Megan Khang gave us a serious sweat, but in the end her playoff win completed the Sunday sweep. Two wins in one day! I cannot begin to tell you how happy I was Sunday night.
​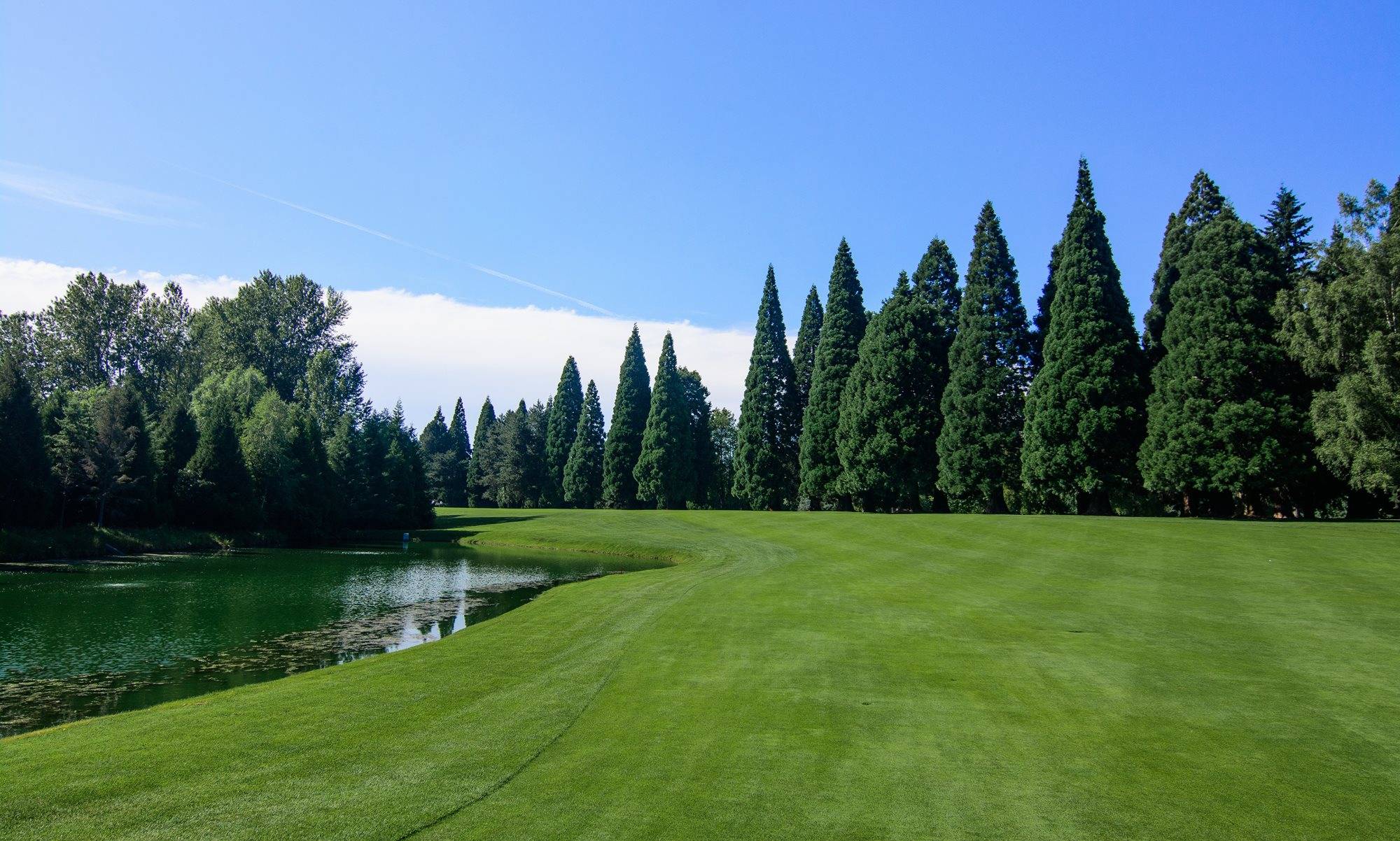 Straight and narrow
We love the Portland Classic. The 2022 Champion Andrea Lee (+4500) was our eleventh winner of the 2022 season. Returning to Columbia Edgewater Country Club brings back good memories and with our success on Sunday, gives us a chance for TWO back-to-back wins (two years in a row and two weeks in a row).
Much like Canada last week, we have a killer field up in the great Northwest.
Eight of the top 10 players in the Rolex Rankings are competing along with 23 of the top 30.

The field consists of 144 players and will cut to the top 65 and ties after 36-holes.

The players are playing for $1.5 million dollars and a first-place check of $225,000.
Columbia Edgewater Country Club has hosted the Portland Classic 35 times. A par 72 layout that covers 6,467 yards includes a field with six past champions, 13 of the 17 LPGA 2023 winners, and four of the five major champions. The AV Macan Jr. design is known for very narrow fairways and beautiful bunkering. Look at the picture above. Those tall thick pines frame the golf course. They loom large down the sides of each fairway creating a corridor for contending. Macan was our architect last week and we saw who contended. Don't be surprised if this leaderboard is similar.
The Portland region has been dry in August. Players may experience a little rain on Thursday, but overall, it is going to be a nice week. Temperatures are forecasted in the mid to high 70s and barely any wind. Less that 8 mph of breeze is predicted throughout the event. Literally zero rain has fallen this month prior to this week. The course should be running firm and fast. A delicate combination when you consider the priority of hitting fairways. We saw last week what a little roll could do in Canada, and I expect balls to react the same in Oregon.
Seven holes have water, and you will find 54 bunkers on the course. The greens are Poa annua and average 5,500 sq/ft. Macan's masterful design forces the women to play a multitude of shots. Players can score, but only with incredible control. At 6,400 yards and seven (out of 10) par 4s under 400 yards, length is not nearly as important as accuracy. The average winning score over the last decade is 17 under par. I expect a similar result or even a little lower considering the lack of breeze and strength of field.
What began back in 1972 is getting a nice jolt of competition in 2023. The proximity of the Canadian Open, Solheim schedule, and September temperatures have brought out the best in the world to play. The men may have ended their season, but for many of these ladies there's unfinished business. Nelly, Atthaya, and Lydia have not won this year and where's Lexi? The fall LPGA schedule is packed, and events like the Portland Classic are a perfect opportunity to secure win number one for the year.
Portland Classic starts in...
​
​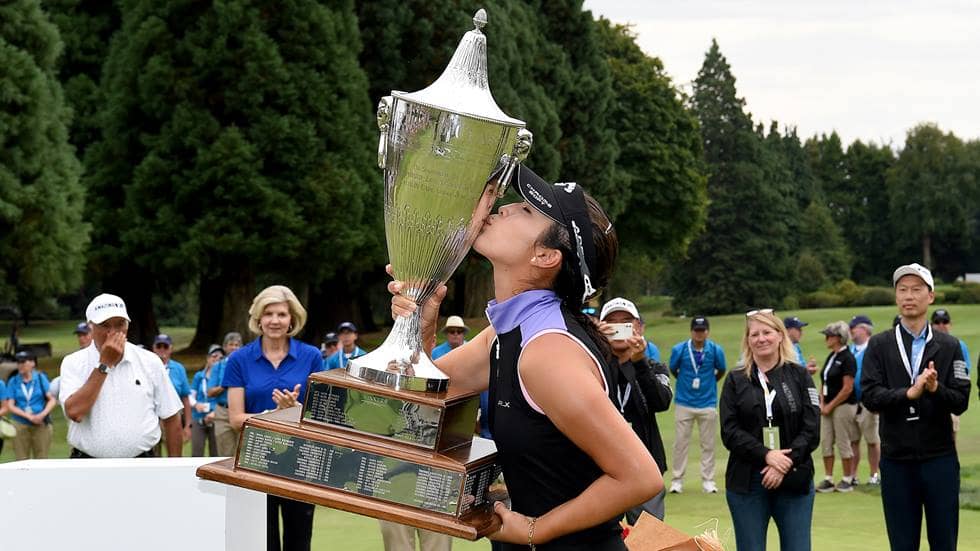 More Macan
Andrea Lee is extremely accurate off the tee and on approach. She came into the Portland Classic a year ago seventh in driving accuracy and twelfth in strokes gained approach (SG:APP). An average putter, she took advantage of hitting fairways and greens. You CANNOT play from the trees at Columbia Edgewater. Our card starts with players who can separate from the field with their driver. Eight of the 14 tee shots face a fairway bunker and 12 of the 14 tee shots bend from left to right. A confident right-handed draw really fits in Portland.
We see a little elevation action off the tee and on approach. Another test for the best ball strikers. Make no mistake, my outright card favors those women who fared well last week. Hitting it sideways at CECC is not an option. You really must be playing with some serious self-belief coming into the tournament. Just like Shaughnessy Golf and Country Club, Macan is going to test the hybrid and long iron game. Fifty percent of the approach shots will be played from over 150 yards.
Power can help the iron game. Not only will you be closer to the green, but using less club on approach. The greens are average in size, but overall, not very big. They have a bunch of outcroppings that take up square footage space but lack large landing areas. Surrounded by 40 greenside bunkers, our eventual winner will secure more GIRs that her competition. Small(er) greens allow for making more putts. Hit the surface and you are instantly within range to score. I believe the winner will push 20 under par unless there is a drastic weather change.
Looking at putts per GIR is an excellent indicator for a player's ability to score. The players will miss fairways and greens. Those holes will require some serious bogey avoidance. When a player does get a birdie chance, they need to capitalize. We measured par 4 scoring last week and will again. No surprise Khang is ranked eleventh in par 4 ability. Her birdie on the par 4 eighteenth on the seventy second hole proved why it is crucial to contending. Scoring on the 4s on Macan courses is imperative.
Narrow fairways on par 5s and tabletop par 3s pose a difficult challenge at CECC. The average par 4 is 382 yards. That is well below the LPGA course average. Find the best landing area off the tee and then attack with the iron game. Lee hit 59 of 72 greens last year (82%). To win, a player will need to see similar success. Andrea made 24 birdies and scoring ultimately seals the win. If you are familiar with CECC don't let the routing throw you off. The LPGA plays the back nine first and closes with the front nine.
The final two holes demand the most accuracy. Tree lined and guarded with water; each provides a strong finishing test. Our outrights are ready to withstand Sunday pressure and seal the deal themselves. Each played very well last week in Canada. They mastered Macan tendencies and will contend again because they feel comfortable in these claustrophobic fairways. Get behind this card if you plan to do well in Portland.
Outright winners -
Portland Classic
*- member content
​
​
Read between the lines
The best place to follow news about Read The Line is right here!
​
History of golf and betting
The PGA of America is gearing up for the Ryder Cup next month and asked me to write a series of articles covering the popularity of golf betting. If you enjoy a perspective on how all of this came together or know someone who has questions about weekend wagers please pass the article(s) along. Over the next couple weeks, I will cover How to Bet on Golf and more.
​
---
12 wins... let's go ladies!
Two weeks in a row, two years in a row?
Who cares, let's win again.
Head right to our website and join! Read The Line.
​
DISCLAIMER: Read The Line provides information and insights concerning the game of golf, aimed at creating more intelligent sports fans. Read The Line does not seek to encourage any of our readers, members or users to engage in sports betting or otherwise make wagers based on the information and insights provided. Any betting or wagers made by readers, members or users are undertaken at their own risk and such activity does not give rise to any legal responsibility on the part of Read The Line. For more information, please refer to our Terms of Use and Privacy Policy.
Think you have a gambling problem? Reach out for help. Read The line promotes responsible gaming. If you or someone you know has a gambling problem and wants help, call 1-800-GAMBLER or visit these online resources:
​The National Council on Problem Gambling​