​
Major venue
Walking the grounds at Olympia Fields Country Club, I'm happy to report the player experience should be slightly different than the last time the BMW Championship was played on the North Course. The 2020 tournament lacked two things, fans due to covid and birdies. Only five players finished the tournament under par and Jon Rahm needed a playoff to beat Dustin Johnson.
The weather this summer in Chicago has been favorable for growing grass. There's plenty of rough to frame these major championship fairways. Olympia Fields has hosted two US Opens and two PGA Championships. The stern par 70 test looks good. At 7,366 yards covering the course you feel the length. There's little doubt in my mind why Rahm, DJ, Hideki, and Finau finished under par last time. This is a big boy golf course. The 50 players that remain in the playoffs will need to let the driver shaft out and swing away.
Twenty-one of the top 25 in the OWGR are playing. Twenty-four players in the field were here in 2020 for the last BMW Championship. Thirty players will advance to the Tour Championship at East Lake Golf Club.
Outside of a small chance of rain on Thursday, the forecast is for golf. Temperatures will be in the low 80s and not much of a breeze. The players will be able to take the spotlight on this major stage. Everything about this facility is big. The kiddie pool at the aquatic center is enormous. How many clubhouses have their own signature clock tower. The designated purse is again $20 million and $3.6 million dollars will be awarded for first place.
To give you an idea what these guys dealt with, none of the par 4s played to a stroke average under par in 2020. The two easiest holes were the first and second hole and the first is a 630+ yard par 5. Eight of the par 4s measure over 440 yards and the par 3s average over 200 yards. To say length will be a factor seems redundant on the PGA TOUR, but you must mention it when handicapping this course. Fifteen holes have a bogey rate over 15% and with the rough I witnessed around 4" that number might only go higher.
There are 91 bunkers on the North Course and 38 of them will challenge you from off the tee. Eight holes have water in play and the average green size is 5,200 sq/ft. Smaller than average in size, players only hit them 58% of the time versus the TOUR average of 66%. One element of the playoffs in 2023 has been establishing a sense of urgency. For this first time in the FedEx Cup playoff history, players feel a need to advance. For some this pressure began to build in early July. The Memphis cutoff was significant because it got you into the designated events. Getting into and competing in the Tour Championship secures a spot in all four majors for 2024.
The carrot is out there and twenty more will be cut. Only two made it inside the top 50 from the 51-70 range at the St. Jude. Will more crossover in Chicago? Who will make a serious case to get on Team USA. The Ryder Cup points list will be finalized on BMW Sunday after play. Speculation on the first six of Captain Zach's team will be over and the argument over the next six will fully take hold.
All of this is heading in an exciting direction and therefore warrants a Read the Line win. We are looking for #10 of 2023 and I know being on-site at the BMW for the second year in a row gives us the edge needed to earn it.
BMW starts in...
​
​
Three in a row..?
BMW's nickname has always been the Ultimate Driving Machine and that's what I think it will take to win in Chicago. These famous fairways aren't super narrow, but if you find yourself outside them, deep trouble lurks. All kidding aside from BMW slogans, this course sets up very similar to TPC Southwind off the tee. It favors a fade biased player in sight and in performance. Simply put, if you like to move the ball left to right (right-handed player) your eye will be enticed by the North Course. One benefit hearing from the players live is getting an idea of what they are thinking while planning for the week.
Jon Rahm mentioned in 2020 when he had that amazing come from behind weekend that his draw was not working. Six over par after two rounds, he wasn't wrong. Ten under par for the next 36-holes he found something. He stated, "I didn't play one draw all weekend." When pushed back with a follow up question, he reiterated, "not one." That's significant because when a player can simplify the game it makes their job a whole lot easier.
The average par 4 length on the North Course is 443 yards. On approach the breakdown falls primarily between 150-175 yards. Those mid-irons need to be accurate as we have already established the field misses a bunch of greens. That's the underlying theme of what we will see all week. When Rahm won, he didn't gain more than three strokes in any one strokes gained category. Well-rounded play is the key to contending. Lucas Glover leads the field in the past two weeks, but if we go a little farther back and include more of the season certain players stand out on courses like Olympia Fields.
Oak Hill and Muirfield Village come to mind along with Torrey Pines, Riviera and TPC San Antonio. Courses where you MUST hit the fairway to win. Forget contending, you have to pump it out there long and accurately. Follow that up with grace and touch around the greens. Most Olympia Fields greens are surrounded by long rough and 53 greenside bunkers. Bogey avoidance on this course counts. Think of last week on steroids. Players like Patrick Cantlay become a great option because he can drive it deep and handle those par saving situations.
A quick comparison of the top 10 from 2020 shows similar data to the analytics provided by Rahm's scorecard. The guys from that group gained an average of 2.0 strokes off the tee, 2.4 strokes on approach, 1.5 strokes around the green, and 2.4 strokes with their putters. I look at this every week, and it only comes out this balanced for major championship venues. Even then this level of consistency across all the major categories is why Olympia Fields is widely recognized as one of the top courses in America.
Major champions have always gained an edge through long iron play and incredible short game/putting. Our winner this week will require a similar skill set to tame the North Course and beat the top 50 players from the 2022-23 wrap around season. The big three can certainly strike it, but can they close with the flatstick? A lot more questions are left in this season other than Captain's picks. I believe this group of guys has most of the answers.
Outright winners -
BMW Championship
​
*- member content
---
Welcome to the rock
We have two host sites for the ISPS HANDA World Invitational. One of the more unique events on the LPGA calendar, 144 women will compete alongside 144 men of the DP World Tour for an equal purse of $1.5 million dollars and $225,000 for first place. The primary course for the third edition of this vanguard tournament is Galgorm Castle Golf Club. Located just west of Belfast in Northern Ireland it sits approximately 34 miles away from the second venue; Castlerock Golf Club.
Castlerock is a new secondary site for the event, and it located on the northern shore of Ireland bordering the Atlantic Ocean. A true links layout, players will be tested by the course as well as the elements. The mix of parkland style and coastal courses is just as unique as the event itself. The combination Ladies European Tour (LET)/LPGA and DP World Tour event will test all aspects of a professional golfers game.
Each player will split the first two rounds and play both courses. The weekend golf will conclude with both rounds contested at Galgorm Castle GC. The primary host course is a par 72 6,527-yard test for the ladies. Maja Stark's Sunday 63 must have scared the Tournament Committee as they have added an extra 125 yards to the layout. The course needed to provide a sterner test, and this should help. The scorecard shows four par 5s, four par 3s, and ten par 4s. Stark shot a 20 under par total and really took advantage of the shorter holes and par 5s.
When you head out to the coastline, Castlerock Golf Club is a par 73 course measuring 6,281-yards. Five par 5s, four 3s, and nine par 4s cover that scorecard. The total yardage pops out at you. Most might initially think the course is short, but with the wind effected landscape, it would be irresponsible to stretch it much further. Keep in mind, it is only one of the three competitive rounds in the 72-hole contest.
The field following a major championship is usually a letdown in talent, and since this event is a combined LET/LPGA contest, the odds board is extremely top heavy. It's almost as bad as having Scottie, Rory, and Rahm in the field! Seventy-eight players from the LPGA will tee it up alongside 85 players from the LET. There are two players in the top 15 of the Rolex World Rankings in Northern Ireland. Due to the strength of field and format, I'm limiting our betting card exposure. Have no fear, we won this event last year with Stark's Sunday charge (+3300).
We will find value and contend again, but the question is on the northern coast, what will these players have to compete with when it comes to the weather.
Galgorm Castle - we will see wet weather during the tournament. Temperatures are expected in the mid 60s and low 70s. Players will see rain on Friday, Saturday and Sunday adding up to around a half inch. The wind will be their biggest challenge as the breeze will be blowing inland in the high teens.

Castlerock - Here's where the wind could even cause delays. Thursday and Friday the temperatures will be in the high 60s before the coastal chill kicks in. Eighteen to 20 mile per hour winds are expected on Thursday, and Friday should blow a little harder. These predictions come from a weather station a little inland. If you're looking for a little carnage, don't miss the opening round(s) coverage. Like Galgorm, Thursday should stay dry and Friday the field will see rain.
The men play one course and the women another in the first two rounds so the field faces the same conditions. That's important when it comes to events like this where multiple venues are over 30 miles apart! Stark's victory launched her career and placed her on plenty of LPGA leaderboards since. Will there be another LET star ready to follow in her footsteps. If there is, I have a good idea of who it might be.
ISPS HANDA starts in...
​
​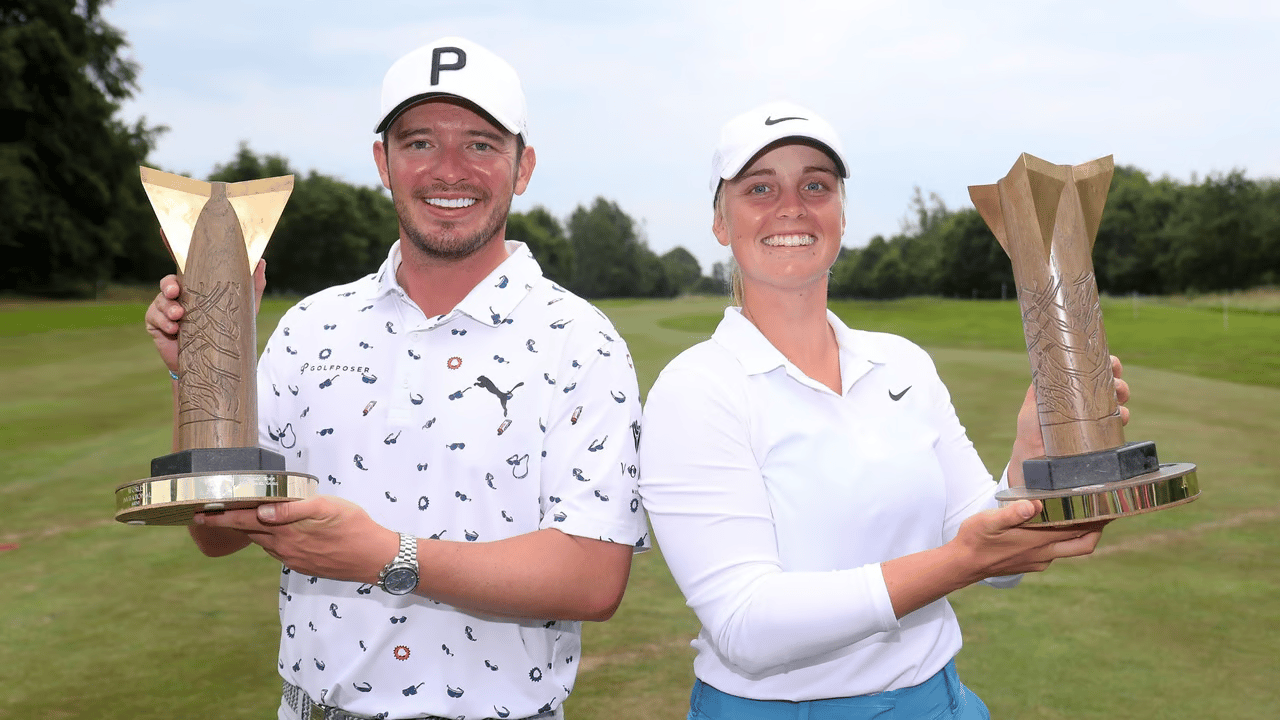 Co-ed contest
The format for this one is worth going over. Each field (men and women) of 144 players will be cut after 36-holes to the top 60 and ties. Following 54 holes, there will be another cut to the top 35 players and ties. Those final 70+ players will compete together on Sunday for the ISPS title(s). Unlike any other event, the drama I expect to see should be truly entertaining. Even though we have a parkland and links style course to compete on, I believe the skill set needed is quite similar.
All players are required to control their trajectory and ball flight to contend in the predicted wind. Stark's skill set still applies for 2023. Even though the average par 4 length on both courses is on the shorter side, the 400-yard 4s do add up along with a number of short, reachable par 5s. Length and long iron play are going to be huge advantage on both courses. Over 50% of the approaches are going to be played from over 150 yards. Getting closer to each green off the tee is a priority.
The field just cannot fire away off the tee. Galgorm has 25 fairway bunkers and 14 holes where water comes into play. Castlerock has 17 fairway bunkers and endless amounts of gorse and brush away from the fairway. Only five holes have water in play at Castlerock but get in those bushes and it might as well be wet. One hundred and thirteen bunkers between the two venues players must avoid trouble across the entire course(s).
Stark hit 76% of her GIRs and made 20 birdies and two eagles. I have compared the statistics from the LET and LPGA to find the best birdie makers in the field. Scoring is a skill and to win you will need to accumulate birdies. The conditions will cause bogeys and I doubt 20 under par will happen, but the winner will need 16-18+ sub-par scores. The LET has a bunch of bright young stars. This is where Stark and Linn Grant came from.
To build a contending card, another area of focus is par 5 scoring. Castlerock has five par 5s for the women's scorecard. Throw in four more at Galgorm and there's an edge for the best par 5 scorers. Those statistics can be trusted on both tours and tell a specific story. Scoring requires converting those birdie opportunities on the par 5s and more. With challenging conditions in the forecast, a few shots can be saved on the greens. The winner will have an average for the four rounds under 30 putts.
A quick comparison of recent form relates important information. The LET leaders have been competing with the LPGA for a couple weeks (Evian, Scottish, Open). Watching their performances under pressure against better talent from the premiere women's tour (LPGA) is extremely important. It helped me find Stark last year and has shined a light on a couple others. I love the design of this event. Multiple cuts, two divisions, and opposite style courses create an awesome atmosphere. One I cannot wait to watch this weekend unfold.
Outright winners -
ISPS HANDA World Invitational
*- member content
​
​
Read between the lines
The best place to follow news about Read The Line is right here!
​
Every week...
Can't consume enough golf betting content? Every week, you can read more RTL on Sports Illustrated, The Sporting News, LPGA, RotoWire, and the PGA TOUR. Just got to our website for all the articles and media. Please send a friend while you are at it and let us build golf's best golf betting community!
​
---
Our on-site coverage continues all week.
Follow all of our in-play added bets on social media.
You can find them on Twitter, Instagram, and TikTok.
Head right to our website and join! Read The Line.
​
DISCLAIMER: Read The Line provides information and insights concerning the game of golf, aimed at creating more intelligent sports fans. Read The Line does not seek to encourage any of our readers, members or users to engage in sports betting or otherwise make wagers based on the information and insights provided. Any betting or wagers made by readers, members or users are undertaken at their own risk and such activity does not give rise to any legal responsibility on the part of Read The Line. For more information, please refer to our Terms of Use and Privacy Policy.
Think you have a gambling problem? Reach out for help. Read The line promotes responsible gaming. If you or someone you know has a gambling problem and wants help, call 1-800-GAMBLER or visit these online resources:
​The National Council on Problem Gambling​