​
The Ryder Cup (est. 1927)
The 44th Ryder Cup matches are set to take place this week outside Rome, Italy. After months of speculation over Captain's picks, course setup, and Team USA haircuts it is finally time to play the match. Team USA won the last encounter at Whistling Straits in 2021 by a score of 19-9. A boat race for sure, few had given the American side much hope going in, but they pulled off a very impressive victory.
Fast forward two years and the rhetoric remains the same. The US has not won in Europe since 1993. Funny how we always find a way to distract ourselves from the most important narrative. The United States is a better team. Not just on paper, but when we played two years ago, we unloaded on Team Europe. We have finally accepted their formula for winning and put together a team that gets along. More on the winning team in the next section, let's first set the stage for golf's most compelling competition.
The Course
Marco Simone Golf and Country Club is set on the eastern side of Rome. Among the hills this gorgeous landscape has played host to the last three DP World Italian Open tournaments. The par 71 course covers 7,268 yards. Three par 5s, four par 3s, and 11 par 4s make up the scorecard. Twelve of the 18 holes have water in play, 77 bunkers surround the fairways and greens and please don't forget some epic rough. Thirteen of the 14 driving holes have bending fairways. This match play masterpiece truly tests every player's risk reward tendency.
These two teams bomb the ball off the tee. The three par 5s will serve up plenty of eagle chances along with three reachable par 4s. Needless to say, with the ground running firm and a favorable forecast European match officials have the course right where they want it. Whether or not the players want it in these conditions might be a developing story, but these guys will have no rain and very little wind to contend with. Temperatures are expected in the low 60s at night and mid 80s during the day.
Marco Simone is quite hilly. These players are in great shape, but the mental fatigue combined with the physical effort each match takes will play a role. Team depth is important and with this landscape might be the deciding factor come Sunday. Another factor to consider is the scorecard for alternate shot.
Three of the par 3s are on the odd numbered holes; both par 3s on the back nine.

Six of the ten "driver" holes where length gives you an advantage are even numbered.
Ryder Cup matches average 15.5 holes. So don't save all your weapons to the end. Chances are 17 and 18 will only be played approximately 40% of the time. This is match play, once you're up more holes than the remaining amount you're done.
The Format
The Ryder Cup has a special format and one that must be carefully considered before we go ahead and pick the winner. The competition will begin on Friday morning with four foursomes matches.
Foursomes play is better known as alternate shot. Each team will determine who tees off on the odd holes and the other partner will tee off on the even holes. Once they tee off, the players alternate turns until the ball is holed.
The afternoon complement to the morning will be four fourball matches.
Fourball is easy to remember since there are four balls in play. Each team of two players takes their best score and matches it against the other team's best score.
Both forms of play use match play scoring where teams can win, lose, or halve (tie) a hole. Once a team is up more holes than there are left, the match is decided. Each match is worth a point if you win and a half point if tied after 18 holes. The same morning and afternoon schedule will be followed again on Saturday. Sunday concludes with 12 individual singles matches. The first team to 14.5 points will be the winner. Should the two teams tie at 14 points, the Ryder Cup will be retained by the team who currently holds it, in this case USA.
Based upon last week's Solheim Cup result, a result we should all be paying very close attention to...
The Teams
Two of the last three Italian Open winners are on the European side. I'm guessing that is not a big deal since they could have selected Adrian Meronk and that would have given them all three recent winners. Instead, Luke Donald built a team with four rookies, a couple Ryder Cup veterans (Rory and Rose) and some all-world players (Viktor, Rahm, etc.). Collectively, Europe has 21 Cups (87 matches) and an aggregate record of 36-39-12. Their average age is 30, the same as their average world ranking. Half of their team has experienced winning the Cup.
United States Captain Zach Johnson also has four rookies. Our average world ranking is 13 and age is also 30. The US side has played in 17 Cups (69 matches) and produced a team record of 34-22-13. We have won two of the last three Ryder Cups. All but our rookies have experienced holding Samuel Ryder's trophy. Of course, two of them have lifted major championship trophies in 2023. We have three of the four major winners on our team. I know most of the media won't give us any credit for what we've accomplished on paper. They will point toward our thirty-year losing record across the Atlantic.
Keep accepting the old rhetoric and you'll be behind the times. This group is very similar to the team who won in 1993. There were two major champions on that team and the Captain's selections were based upon Ryder Cup history. Sound familiar...? Keep reading and I'll break down the match and predict the winner just like I did correctly in 2021.
Ryder Cup starts in...
​
​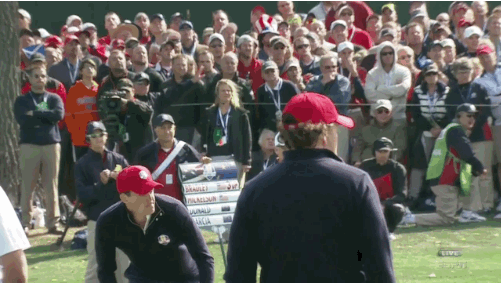 The men in the arena
Let's start with the format to begin the breakdown of these matches.
Over the last five matches, the European team has a small edge in foursomes play. They average 2.05 points and have won four out of ten match sets. The US averages 1.95 points in these alternate shot H2Hs and has also won 4 out of the ten sets. Two foursome sessions were tied in the last five Ryder Cups.

The US has an edge in fourball matches. We win 2.3 matches per session while the European side wins 1.7. They have won two of the ten sessions, and the US has won six of the ten. There were two sessions in the last five Ryder Cups were fourballs tied.

The singles are very interesting. What was always thought of as our strength has not been in the same time frame. The European side holds a 6.2 to 5.8 average point lead when they go mano a mano. The Euros have won three of those last five singles sessions.
Add it up and the US holds an average point lead of 14.3 to 13.7 over the European team. Considering how close that is and the result of the Solheim Cup in Spain last week, make sure you understand the Ryder Cup betting.
Bet to win - You are picking the winner. Which team will have the most points? In this bet, there can be a 14-14 tie.
Lift the Cup - You are picking who will win the Ryder Cup. If there is a 14-14 tie, the USA gets to keep the Ryder Cup. The odds will reflect the loss of a tie.
Even with the tie last week, I am still betting the "win" bet in Rome. There have been two ties in Ryder Cup history (1969, 1989). Last week was the first and only tie in Solheim Cup history. Ignore your recency bias and move on. The next item you should be aware of are all the pre-match prop bets. Most points overall, most points by a rookie, etc. I think these bets are too difficult to predict and avoid them. I've fallen into this trap before, and since we don't know how many matches each player will be selected for it is impossible to determine an edge to pick the winner.
One serious reason for my rationale is the five-match trend in the last five Ryder Cups. Captains used to roll out their best players five times. An average of 4.4 players out of 24 have competed in five matches per Ryder Cup. The European side plays five matches more than the US (2.8 to 1.6 times) on average. Limiting a majority of the field to four or less makes these bets more about luck pre-match than strategy. I would rather save my betting budget and hammer the in-play action once the pairings are announced.
That strategy resulted in a 57%-win percentage and 13% net return last week in Spain for the Solheim.
The winning formula for the RYDER Cup comes down to a couple of key ingredients. The first step is to build a great team. Collect a group of players who can play team matches together. Here is where we failed for decades through the Tiger and Phil years. Neither of those two generational talents ever had a comfortable Ryder Cup pairing. Therefore, when you sent them out for four team matches, those losses would always add up. In 2021, the United States built a team made for team match play. Remember the Kevin Na/Kevin Kisner argument over Scottie Scheffler?
This American team likes to play with one another, and it shows. We are one step ahead of the European side in that regard as well. While they are turning over to younger talent, they must find those powerful pairings. Cantlay/Schauffele and Thomas/Spieth are ready to go. I cannot stress this enough. Team pairings were always an afterthought and now they seem to drive our decision making. The second successful trait in these matches is taking advantage of the home course setup.
For decades, the US side was made up of bombers and the Europeans were tacticians. In 2023, these two teams are closer in skill construction than ever. Grow the rough and pinch fairways and that hurts Europe as much as it does the US. The blue and yellow have the best young driver in the game (Aberg) and best driver in the world (Rory). Would you want to pinch fairways on those two? If the Europeans decide to set the course up like the Belfry and Le Golf National, it hurts their strengths just as much as it does ours.
So many major Ryder Cup moments happen from 50 yards and in. The European side holds an advantage in putting. Scheffler, Spieth, and Thomas have been brutal on the greens in 2023. Our American players are better short game players. The green surrounds are covered in Paspalum grass. A different blade to chip and pitch from. With three par 5s and three short par 4s, those scoring shots will be an edge. They will have to follow up with a solid putt, but our team will be closer when the flatstick comes out.
Each team has four rookies. Except two of our rookies have already competed in international team competition. Max Homa and Sam Burns felt the emotion of the moment last year in the Presidents Cup. Seop Straka, Ludvig Åberg, Nicolai Hojgaard, and Robert MacIntyre are not offered that opportunity. Maybe the Ryder Cup has more pressure than a Presidents' Cup, but the real pressure comes from not wanting to let your team/country down. Max and Sam have felt that and have a better idea of what to expect in Rome.
It also doesn't hurt that our other two rookies won major championships this year. Wyndham Clark and Brian Harman believed in themselves enough to get those trophies and that level of self-confidence is slightly higher than Sepp Straka's when he won the John Deere Classic.
Match winner -
Ryder Cup
Attention shoppers!
The fall season is back after a quick sojourn in Spain for the Solheim Cup. Ten of the top 30 players in the world are competing in the field of 144 players for the Walmart NW Arkansas Championship presented by Procter and Gamble. Celebrating its eighteenth edition, the mid-west tournament boasts a $2.3 million dollar purse and first place check of $325,000. The top 65 and ties make the weekend in Arkansas. Last year Atthaya Thitikul beat our pick Danielle Kang in a playoff. Can Kang bring her hot putter from Finca Cortesin to the mid-west? Or can we find another excellent outright card that continues to define our fall run on the LPGA.
Pinnacle Country Club has hosted every edition of the Walmart since it started in 2007. The course is an incredible challenge from start to finish. The par 71 scorecard measures 6,438 yards. One unique element in the routing is five par 3s. Bring an accurate iron game to Arkansas. You'll really need to be in control of your ball striking everywhere. The course has 62 bunkers and 16 holes where water comes into play. Many of those penalty areas border the fairways on this twisting layout.
Those five par 3's catch our attention quickly. Not just on the scorecard, but also on the course. Each of these one-shot holes has water. The course isn't long and that aids the scoring, but one bad swing can lead to a double bogey. Players will need to keep their ball in play the entire round to keep up with the leaders.
Over the last five years, the average winning score is nearly 19 under par.In that same time, the average cutline is 1.2 under par.
Sounds reasonable... did I mention this is a 54-hole tournament! Yes, they get to those totals in just three rounds. Therefore, it's not just about protecting your golf ball at Pinnacle, you must score to contend. Recent form is a factor for our outrights, but truth be told if a player cannot go low, they won't be holding the trophy come Sunday.
The Superintendent sent a memo to the LPGA covering the course conditions. Rogers, AK experienced a very harsh winter. Over nine acres of Zoysia grass fairways had to be repaired. The field was assured the greens and tees remained intact, but those fairways could react different than in past years. Last week, the course received over 3" of rain. Up until then, precipitation levels were normal, so I expect the ground to be slightly soft. No rain is expected this week, and the winds will be calm. Temperatures are forecasted in the high 80s with mostly sunny skies.
The course and the weather are well suited for scoring. Pinnacle CC isn't that easy of a layout on paper. True it's not the longest course for the LPGA, but eight of the driving holes have fairway bunkers and every green complex comes with sand. There's a fantastic mix of tee shots required throughout. Five of the driving holes move left to right off the tee and six move right to left. If you're an avid RTL reader, you know we'll get into more of the skills required in the predictions section. To close, here's where you can catch the coverage around the Ryder Cup this weekend.
Walmart starts in...
​
​
Best approach to winning
We lost in a playoff last year. Predicting the winner of the Walmart starts again with those par 3s. The top 10 in last year's tournament all averaged an under-par score on those holes. That is significant because they make up nearly 30% of the tournament. To score on the par 3s (and the rest) you need a great approach game at Pinnacle. Fifty percent of the approach shots fall between 125 and 175 yards. Those mid irons are tested across all 18 holes.
The top 10 gained an average of 5.1 strokes against the field on approach. The largest category gained; it really separates this field. Those same players averaged hitting 84% of their GIRs and managed an average proximity of 18.2'. Seven of the top 10 finishers had an average less than 20'! Attack with your irons and hit them close. Our outright card can absolutely strike it solid on approach. That will give them a considerable edge in scoring. The greens are mostly flat and average 6,000 sq/ft in size. They are covered in creeping Bentgrass and roll reliably.
Those same leaders from last year gained an average of four strokes (3.8) with the flatstick. The second largest gain against the group, putting once you put the ball in proximity gets you to 18-19 under par. The top 10 averaged 16 birdies for 54 holes. Over five sub-par scores per round is aggressive. The best BoB% players in the field catch my attention for contending on Sunday. You can't hold back in this tournament. With just three rounds, there is no time.
The three par 5s play to average length of 534 yards and the par 4s are even shorter at 396 yards: well below the LPGA weekly average. When you consider the rain last week, those surfaces will be receptive. Many of these players had to watch the Solheim Cup last week. Some weren't selected and others aren't from Europe or the United States. Eleven of the top 20 in the Rolex Rankings cannot play in the Solheim. I believe those ladies saw that spotlight and will play as if they have something to prove.
Since players hit a high average of GIRs, around the green play is not a valuable indicator for contending. Ironically, neither is off the tee. Which is interesting because there is a tremendous amount of trouble surrounding each fairway. Length mitigates the need to be aggressive with the driver and in reality all of these women are accurate off the tee. The edge really falls in the iron game. Considering those top 10 averaged only 5.2 strokes gained tee to green and five strokes were on approach is pretty representative of what works.
Last year, I employed a similar strategy, and we had three outrights finish in the top 20. I'm sticking with those observations again and feel very good about our card. I realize the LPGA is going against the Ryder Cup this week. Just take five minutes and get these outrights in. Picking the Cup winner might get us an even money bet. Grab the winner in Arkansas and you can hit +3000 or more!
Outright winners -
Walmart NW Arkansas Championship
*- member content
​
​
Read between the lines
The best place to follow news about Read The Line is right here!
​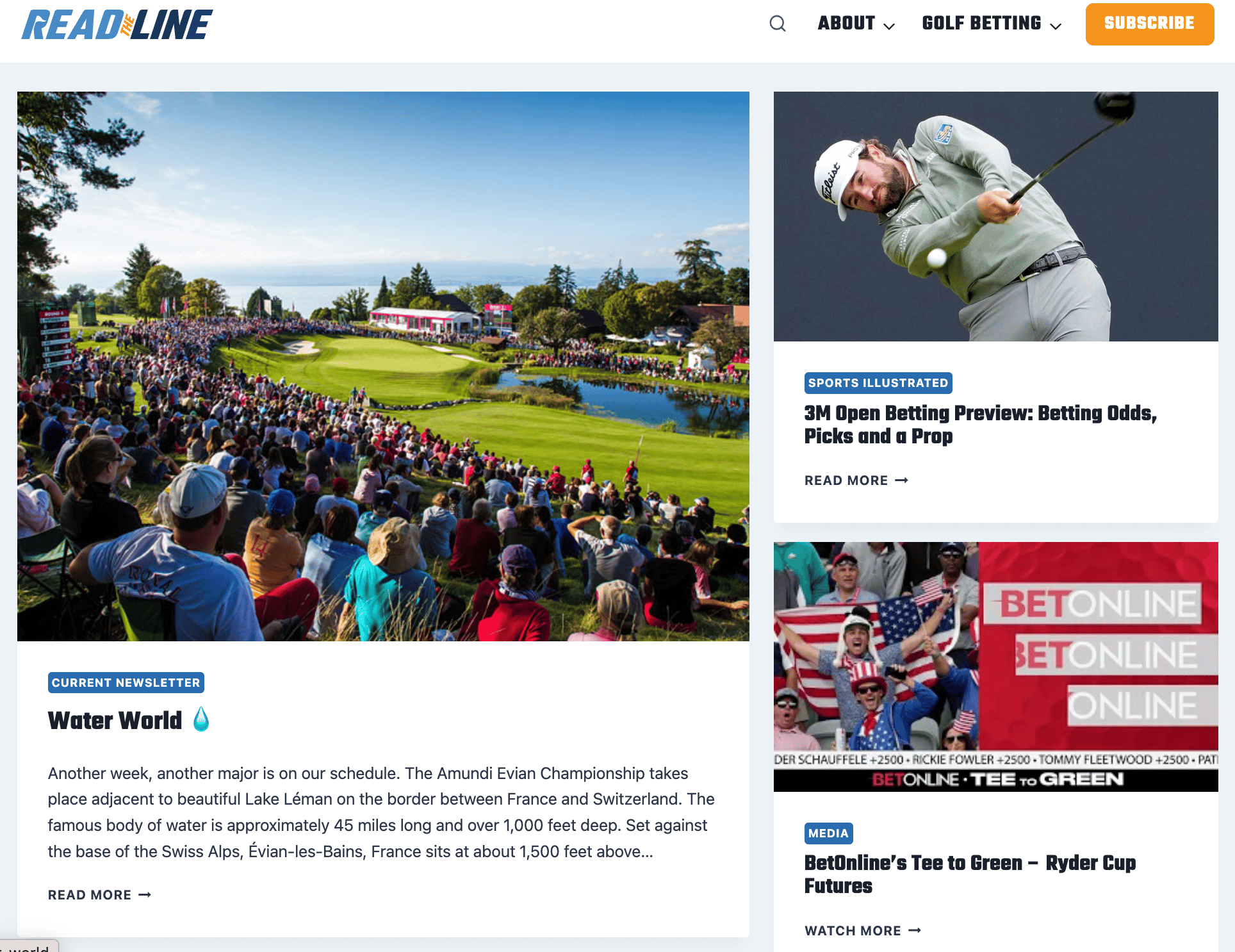 One full week of content
Throughout Ryder Cup week, you will find Read The Line content on RotoWire, Sports Illustrated, PGA.com, Sporting News, LPGA.com, PGA TOUR.com, and who knows where else! Forget chasing all of those websites. Go to our WEBSITE and see it all!
This is a HUGE in-play betting week. Make sure you are following all of our social channels for live betting adds during the Ryder Cup (Twitter, TikTok, Instagram, YouTube).
​
---
Enjoy this week, it won't return for two years!
Three weeks of the PGA TOUR start next week in Mississippi.
The LPGA has eight weeks in a row...
Head right to our website and join! Read The Line.
​
DISCLAIMER: Read The Line provides information and insights concerning the game of golf, aimed at creating more intelligent sports fans. Read The Line does not seek to encourage any of our readers, members or users to engage in sports betting or otherwise make wagers based on the information and insights provided. Any betting or wagers made by readers, members or users are undertaken at their own risk and such activity does not give rise to any legal responsibility on the part of Read The Line. For more information, please refer to our Terms of Use and Privacy Policy.
Think you have a gambling problem? Reach out for help. Read The line promotes responsible gaming. If you or someone you know has a gambling problem and wants help, call 1-800-GAMBLER or visit these online resources:
​The National Council on Problem Gambling​