​
Look closely this week as I will be in Atlanta covering the Tour Championship for RTL.
This is the end, my only friend... the end
The Tour Championship is a unique event. We come here every year to complete the FedEx Cup playoffs and say goodbye to the current season. We feel as if we know East Lake Golf Club very well. Yet when we begin to investigate the historical data inside this event, we quickly realize only thirty players compete here each year. Of those thirty, about half of them are here every year, so a small sample gets even smaller.
East Lake Golf Club is a stern test. The Par 70 scorecard measures 7,419 yards. That yardage puts ELGC near the top of the list for length on the PGA Tour. Couple that with only two Par 5's and four Par 3's over 200 yards and there's no secret why the average winning score over the past fifteen FedEx Cup finales have been just 11 under par. The brutal assortment of Par 4's really sets apart the best ball strikers in the field.
Looking ahead to the weather this week, there are going to be a couple of interesting challenges.
It's Atlanta in August so the heat and humidity is here. Temperatures plan to be in the high 80's all week. Humidity should rest around 85-90% as well. That means the ball will be flying. Of course, that helps these guys take on this mammoth beast.

We expect a little wind this week. When it comes, it will be from the South. This is significant because, at East Lake, fourteen of the holes run east to west. In fact, almost the whole front nine runs parallel by design. This means the wind out of the south will be across all those holes. Crosswinds on long tight fairways with multiple fairway bunkers will be less than fun.

Rain is in our forecast. There's a 50% chance on Thursday with .37" expected. Friday another 50% chance and just .15". Saturday has the best forecast with just a 30% chance and Sunday closes with a 45% chance. It's hot and humid in the south. Thunderstorms can pop anytime, so maybe we get the rain, maybe we don't, either way, it will be a slight distraction at some point in the proceedings.
We know this is an elite field. How elite? All of the Top 10 and nineteen of the Top 20 in the OWGR are in Atlanta. If last week's leaderboard is any indication of the theater we can expect this week, it's going to be a great end to a historic season.
Much has been made of the Tour Championship staggered stroke start in the scoring since it began in 2019. For those who aren't familiar, each player begins the tournament with a specific score this week based upon their standing in the FedEx Top 30. Our leader Scottie Scheffler starts at ten under par while the 30th ranked player starts at even par. We know the average winning score is eleven under after 72 holes. Therefore, if you start four or five back it is pretty much impossible to catch the leader. Could it happen? Sure. But the odds don't reflect how difficult it is.
Therefore, our betting selections this week will be based on scoring without the added strokes. Every player is trying their very best to go low. There could be a situation where the leader gets way ahead and doesn't push to the end, but I have taken that scenario into account with my predictions. Our list is full of guys who play aggressively and want to win.
Over the past five editions, the average winner's odds have been +3500, over the last ten the average winner's odds shrinks to +2800.
This is our last chance to bet the men for a couple of weeks. Let's take advantage of my own property analysis Tuesday in Atlanta and our great momentum from the rest of this season.
​
​
'O Canada
The best women in the world are back. It has been a couple of weeks since the last major championship of the season and each of the world's best has had a moment to catch her breath. The CP Women's Open takes us to Canada for their women's golf national championship. Fire up the mounties and get ready for Brooke Henderson bedlam! Yes, the two-time winner on tour this season is headlining a star-studded field north of the border.
Eight of the Top 10 players in the Rolex World Rankings are playing and eighteen of the Top 25.

This is Canada's national championship. Expect the crowds to come out and support the event much as they did for the men at the RBC. I love the "rink" on the sixteenth hole.
Ottawa Hunt and Golf Club is the host this week for the fourth time. This rolling landscape is home to three different nines, the women will be competing on the South-West layout.
OH&GC is a Par 71 layout that stretches 6,544 yards.

The scorecard consists of FIVE Par 3's, four Par 5's, and nine Par 4's.

Those Par 3's will test the players, the fifth hole is the hardest relative to par, and the seventeenth is the easiest.

Up in Ottawa, we have some lengths for this national open:

Average Par 4 length is 397 yards.

Average Par 3 length is 167 yards.

Average Par 5 length is 535 yards.
It should be a little cool this week up in Canada. The ladies are used to it coming from Europe, but it just means the ball won't be flying like it is during summertime. Expected temperatures will be in the 50's to start the day and only reach the high 70's. Rounds 1 and 2 will be affected by rain which will cause the course to play even longer than it is already. A little wind is in the forecast ranging from 8-12 mph over the four days of competition. Overall the weather looks pretty good for golf in Canada.
The longer players should feast off the Par 5's here at OH&GC. As they will need to; in the three previous women's Canadian Opens held on site the average winning score was only eleven under par. Much like East Lake, these women have their work cut out for them. Before we spotlight the predicted few who will contend, let's consider we haven't played this championship in three years.
The last CP Women's Open took place in 2019. Jin Young Ko took that title home and went on to become the number one player in the world. Her lead on the rest has been diminishing all season. Upon return to Canada this year, will this event be a launching pad for a new number one? Minjee has had an unbelievable season to date and Nelly is back. Can a rookie make a splash in a national open or will another well-rounded womAn take home the title?
This course is a true test and I cannot wait to put our list up against the rest to try and win number six of the season!
​
​
---
An "inside" look - why we win!
The mission of Read The Line is simple - bring our members the best golf betting coverage. In order to accomplish this goal, I travel to as many tournaments as possible. There's no substitute for watching the men and women prepare and compete up close. Fans always ask why our betting community wins so often. Being there makes a big difference. You cannot figure all this out from just spreadsheets and statistics at home. You have to experience how the players are connecting with the course. That's a very powerful edge and one I'm very happy to share with my readers.
Get to TikTok, Instagram, and Twitter today and click the "follow" button.
​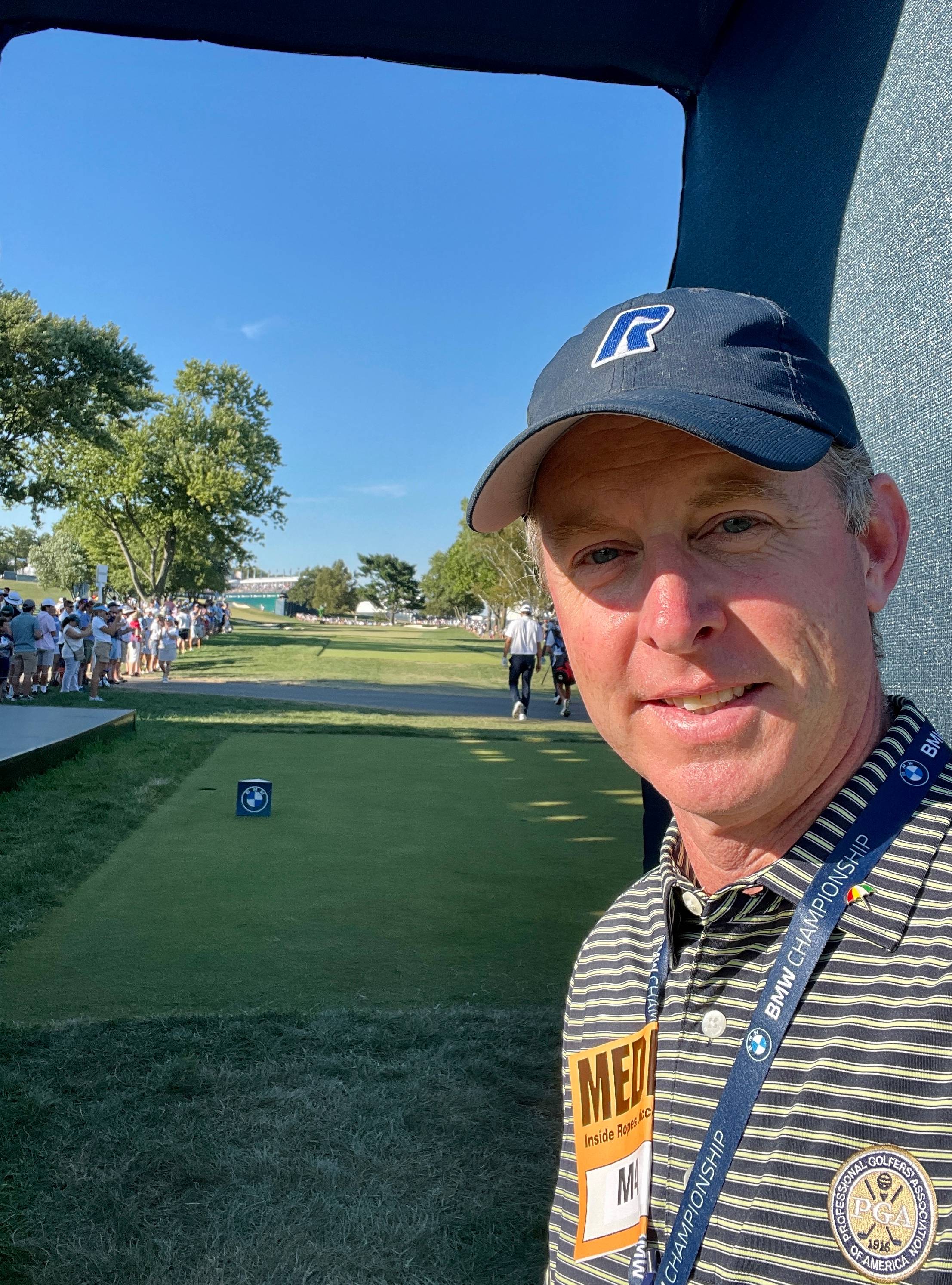 ​
---
​
Winning the Superbowl
East Lake Golf Club is a great finishing test for the FedEx Cup season. Every week is a challenge, but this end stop is really no joke. Start by looking at the scorecard:
We have four Par 3's, two Par 5's, and an awesome set of twelve Par 4's.

The Par 3's average 219 yards, the two Par 5's average 552 yards and the Par 4's average 453 yards.

Six Par 4's are 450 yards or more, and six are less than 450 in length.

The four toughest holes on the course are Par 4's and six of them (Par 4's) play to average score over par.
​
Par 4 scoring is certainly key, but even more important might be hitting the fairway. ELGC has some of the tightest fairway targets on tour. Couple that with 36 fairway bunkers on twelve of the fourteen driver holes. Looking back at the stats, great drivers excel at East Lake. It annually ranks in the Top 5 for rough penalty (missing the fairway). Our outright list can flat-out drive the golf ball.
The player average for hitting greens in regulation is slightly below the tour average as well. Even though it is just below, when you combine the driving difficulty and the approach test, that's why ELGC separates great ball strikers from the rest. Speaking of the approach difficulty...
Nearly 40% of your approach shots at East Lake come in from over 200 yards.

Another 17% fall in the 175-200 yard bucket.

All the Par 3's play over 200 yards.
If you're looking for great long-iron players, here's where you'll find them. Another standout feature of this Rees Jones redo is all the elevation changes. We don't think of Atlanta as a hilly place, but as players walk the five miles of East Lake, they will climb over 150 feet in elevation. That's significant and plays a role in all these very long approach shots. Throw in those cross winds we mentioned in the opening and now you really start to see why this course plays so difficult.
If we're missing greens, then short game skill helps save par. Bogey Avoidance is a contending skill at East Lake and so is making short putts. The toughest putts to sink at ELGC relative to the tour average are those under five feet. Chip it close and make sure you pay attention until it gets into the hole. Watch this weekend, more than a couple of guys will miss some four and five-footers. There's plenty of pressure involved and when you combine that with the skill set I just explained, we get this list of predicted winners.
The best driver of the golf ball on tour is Jon Rahm. When all looked lost last week at the BMW, he turned around his fortunes and finished T8. He gained over nine shots against the field with the driver and putter, a lethal combination for his competitors this week in Atlanta. Why else will Rahm contend? Jon has finished in the Top 10 of his last eight FedEx Cup playoff events in a row! That level of consistency playing against the best players in the world who are performing their best is unbelievable. Some say he can't win. Well, I like his chance to be there on Sunday with a big chance.
The course is hard, the grass is Bermuda and the field is strong. This sounds like a perfect time to bring back Sungjae Im. In his last four starts, he's had massive gains in every major stat category. I love guys like this because it shows they are close to putting it all together. His well-rounded consistency is the perfect complement for ELGC. He's great on Par 4's (8th), drives the ball straight (SG:OTT 5th), and avoids bogeys with the best of them (6th). This recent ball-striking run he's been on is impressive. He's gained six shots against the field in his last five events. One last detail, Atlanta is Sungjae's current hometown.
​
Outright winners -
Tour Championship
Jon Rahm (+900)
Sungjae Im (+2200)
Pick 3* (+2800)
Pick 4* (+4500)
(*- member content)
​
​
On the hunt
Ottawa Hunt and Golf Club have a couple of repeatable features that continue to test a player as they navigate through all eighteen holes.
The driver is a key club. Fairway bunkers line the landing areas and force players to think off the tee. You can't start hitting the beach and expect to have a great week.

Of the thirteen tee shots, ten of them favor a left to right ball flight. If she's right-handed and can fade the ball she will have a decided advantage attacking these holes.

Most of the approach shots play from uphill lies. The longer a player can launch it off the tee, the bigger the advantage she has on approach. Hitting in with a short iron will help you stop the ball on the parched surfaces.

There's an extra Par 3. I took Par 3 scoring into account and it will pay off. Nearly a third of the holes this week will be "one shooters." At this point in the season, we know who plays these holes very well. Those women will contend.

We know Par 5 scoring will help these ladies make up for the harder holes. Again, length will play a role as those who can take advantage of hitting those holes in two and putt for eagle will be better off.

Approach play at OH&GC tests the players much like Muirfield did. Each green sits at a particular angle to the fairway approach. I also mentioned many of them are above the player. Trusting your iron game doesn't come easy. Our strokes gained approach leaders on tour will lead here as well.
Part of this field competed last time the CP Women's Open was played here in 2017. Overall, the combination of great T2G play and patience will ultimately decide who contends and wins. Our list of outrights have all shined above the border before (except one, she's a rookie). Our last ladies prediction was a win, let's get two in a row!
Nasa Hataoka - She already won earlier this season in impressive fashion. Quite honestly, her game may be in better form now than then. Fresh off an eighth place at the AIG Women's Open, Nasa has been in contention in Canada before. She finished fifth in 2019 and eighth the year before that. The strength of her game is in ball striking. Where does it show up best? How about in Par 3 scoring. She's ranked fourth on the LPGA on the 3's and Top 10 in scoring average. This course suits her game well and therefore she sits at the top of my list.
Hye Jin Choi - This rookie phenomenon is really good. She's ranked seventh in Strokes Gained Total on the tour. She's second in the Rookie of the Year points and she hasn't won yet. Eight Top 10 finishes this season has helped and they come from being sixth in Scoring Average. Hye Jin is a phenomenal ball striker who hits tons of GIR's. She will win this season and we want to back her when she does. Don't be deceived by her little stature, she can pound it out there. Her last start was at the AIG and she finished fifth. Watch this week as she gets in the winner's circle.
​
Outright winners -
CP Women's Open
Nasa Hataoka (+1400)
Hye Jin Choi (+2200)
Pick 3* (+4000)
Pick 4* (+10000)
(*- member content)
---
One important college audit
I went back to school Tuesday to catch up with a couple of friends. Georgia Tech has an awesome men's golf team. One of their home courses is East Lake Golf Club. Tuesday morning, I visited the Noonan Center nestled near campus in Atlanta. This 13 acre facility keeps the game sharp for not only their current players, but all golf team alumni as well. Stewart Cink, more alums and some current team members were there and I spoke with them about the challenges of ELGC. Their input was very insightful and has definitely shaped our predictions this week.
​
​
​
---
Read The Line keeps going all fall!
The PGA Tour may be ending one season, but in two weeks they start another.
The LPGA continues this fall as well, keep boosting that football betting budget
with some more winning wagers from our newsletter.
Subscribe to our Member Newsletter and see all of our premium betting predictions...
PGA Tour DFS lineup
LPGA DFS lineup
Detailed Prop bet analysis for the PGA and LPGA tour!
PGA Professional coaching tips
PGA Tour One and Done selection
PGA Tour Head to Head matchup predictions
LPGA Head to Head matchup predictions
"Celebrity Insider" interviews!
Head right to our website and join! Read The Line.
​
DISCLAIMER: Read The Line provides information and insights concerning the game of golf, aimed at creating more intelligent sports fans. Read The Line does not seek to encourage any of our readers, members or users to engage in sports betting or otherwise make wagers based on the information and insights provided. Any betting or wagers made by readers, members or users are undertaken at their own risk and such activity does not give rise to any legal responsibility on the part of Read The Line. For more information, please refer to our Terms of Use and Privacy Policy.
Think you have a gambling problem? Reach out for help. Read The line promotes responsible gaming. If you or someone you know has a gambling problem and wants help, call 1-800-GAMBLER or visit these online resources:
​The National Council on Problem Gambling​